President Trump, at 'serious risk' of COVID-19 complications according to experts, takes experimental drug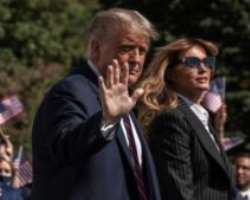 Abby Haglage , Yahoo! Life
Hours after taking to Twitter to announce that both he and the first lady had tested positive for COVID-19, President Donald Trump was hospitalized on Friday "out of an abundance of caution," according to White House Press Secretary Kayleigh McEnany.
On Friday, (after news broke that aide Hope Hicks tested positive) the president was treated with an 8 gram dose of an "antibody cocktail" by the pharmaceutical company Regeneron, according to a letter released by White House physician Dr. Sean P. Conley, along with zinc, vitamin D and a heartburn medication and aspirin. "As of this afternoon, the president remains fatigued but in good spirits," the doctor wrote. However, as a " precautionary measure ," Trump was flown to Walter Reed National Military Medical Center in Bethesda, Md. for, according to the White House, "the next few days."
Melania Trump is experiencing a mild cough and a headache and the rest of the Trump family tested negative for COVID-19, said Conley. In an afternoon tweet , Eric Trump called his father "a true warrior" and asked for prayers from the public. The president himself tweeted out an brief video saying, "I think I am doing very well."
On Tuesday, Regeneron shared in a press release that in a seamless medical trial, the drug showed signs of reducing a patient's viral load (the amount of virus particles), symptoms in non-hospitalized patients and the number of medical visits by providing antibodies in patients who haven't produced their own. The experimental treatment, administered via injection or intravenously, has not been approved by the U.S. Food and Drug Administration and is not generally available. However, Regeneron's co-founder Dr. Leonard S. Schleifer told the New York Times that Trump's medical team sought permission to use the drug, a request that was approved by the FDA. Schliefer added that using the experimental drug wasn't too unusual however, "When it's the president of the United States, of course, that gets — obviously — gets our attention."
While individuals of all ages can develop severe illness from COVID-19, experts say Trump's physical size and age put him at a much elevated risk of complications from the virus. According to the Mayo Clinic, these complications include "pneumonia and trouble breathing, organ failure, heart problems, acute respiratory distress syndrome, blood clots, acute kidney injury and other viral and bacterial infections." President Trump tested positive for COVID-19 on Thursday, one day after appearing at a campaign rally in Minnesota, pictured above. Here's why he's at serious risk of severe illness. (Photo by Mandel Ngan/AFP)
To be sure, Trump's chances of recovery are still high. According to the Centers for Disease Control and Prevention's most recent data, of the 392,916 people between the ages of 65 to 74 who have contracted COVID-19, 31,284 have died. That means Trump, who is 74 and considered obese, has roughly a 90 percent chance of survival . But experts say it's important that he — and others with similar risk factors — take the virus seriously.
"He's at serious risk; this is not a joke," says Yahoo Life Medical Contributor Dr. Dara Kass. The CDC notes that obesity can triple the risk of hospitalization for those with COVID-19. But more recent research has painted an even more grim picture. A study published in the journal Wiley in late August found that people with obesity are 113 percent more likely to be hospitalized, 74 percent more likely to be admitted to an intensive care unit and 48 percent more likely to die.
Dr. Amesh Adalja, an infectious disease expert and senior scholar at the Johns Hopkins Center for Health Security, says that those with obesity are less equipped to fight off disease. "Obesity itself is a metabolic condition where you have derangements in your metabolism and less physiological reserve," says Adalja. "You have less lung capacity and in many cohort studies of individuals with COVID-19, those two factors have prominently been displayed as markers for risk for severe illness."
Obesity, however, isn't the only challenge Trump faces. The CDC states that eight in 10 of the more than 200,000 Americans who have died of COVID-19 have been over the age of 65. At 74, Trump is 90 times more likely to die than someone 18 to 29, and eight times more likely to be hospitalized. "Age over 70 is a significant factor for mortality," says Kass.
As in obese people, much of this boils down to physiological reserve, which the National Institutes of Health defines as "the ability of an organ to successfully return to its original physiological state following repeated episodes of stress." Adalja says older people have "less physiological" reserves and that "their immune system doesn't function as well."
Kass says it could be other factors too. "It may have to do with receptors in their body that increase the effect of the virus, making their immune systems unable to fight it off — as opposed to the fact that their immune systems themselves are at fault," says Kass. "It may be why children don't have as serious a reaction. We don't know, but what we know is that elderly and obese patients are at the highest risk."
Despite his health conditions and age, Trump — who contracted the virus at a point in the pandemic where treatments are available — remains at low risk of death. "There's not really any reports that he's severely symptomatic," says Adalja. "Most people, even in that age group with those risk factors, will recover without need for hospitalization. He's not the first 74-year-old obese person to get COVID-19, and although they're at higher risk for severe disease, that's not an inevitable outcome of it."
McEnany said Friday that Trump was experiencing " mild symptoms, " reportedly including fever, congestion, cough and fatigue, but Kass says that the frequency of testing at the White House means officials may have detected the virus at a presymptomatic phase.
"There's a reason to believe that he is at risk for developing symptoms, and so we need to not overinterpret the course right now," says Kass. "The course for this president is going to be very different than other people. Normally a regular 74-year-old man would either get tested only after an exposure … or when his symptoms were severe enough to go to the doctor. We don't know what's going to happen with Trump. All we know is that he is at risk."
Given this, Kass says, Trump and those with similar risk factors need to take the virus seriously: "They need to rest, they need the hydrate, they need to be very acutely aware of their conditions. Somebody who is trying to minimize their condition or believes that positive thinking can affect their condition without acknowledging the risks and the science would be a very big concern to me."
For the latest coronavirus news and updates , follow along at https://news.yahoo.com/coronavirus . According to experts, people over 60 and those who are immunocompromised continue to be the most at risk. If you have questions, please reference the CDC's and WHO's resource guides.