Orient Daily Newspaper Tenders Apology To Archbishop Ibezim Over Fake News Report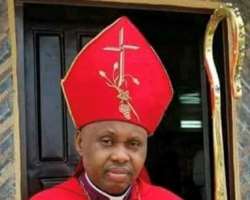 In sincere remorse and sorry for an unscrupulous, slanderous and mendacious content recently published by Orient Daily Newspaper, which was inappropriately, unnecessarily and improperly linked to the Anglican Archbishop of the Province of the Niger and Bishop of Awka Diocese, His Grace, Most Reverend Alexander Chibuzo Ibezim; the media organisation has tendered an unreserved apology to the Anglican prelate.
In a letter of apology penned to the Archbishop, the media organisation noted that the news report titled "Awka Anglican Bishop, ex-knight in corruption scandal publication" and published on page 7 of their last weekend's edition, was never borne out of any ill-motivation towards or against his personality or office, and assured never to repeat such in future.
Dated September 28, 2020 and captioned 'Apology to Your Grace the Most Reverend Alexander C. Ibezim', the letter reads in parts, "Our attention has been drawn to a news report we carried on page 7 of our last weekend edition, titled 'Awka Anglican Bishop, ex-knight in corruption scandal'.
"Having now verified that story and the circumstances of its publication, we deeply regret that the story ever had to be so inappropriately, unnecessarily and improperly linked to Your Grace.
"May we, hereby, offer our unreserved and heartfelt apology to Your Grace for that publication.
"We are currently taking firm and appropriate internal measures to deter a repeat of this unfortunate error which, we can assure you, was never borne out of any ill-motivation towards the person and office of Your Grace.
"As an immediate step, we have pulled down the publication from our online portal and will duly publish an apology to Your Grace in our Wednesday, September 30 edition, if you would so permit.
"As part of your flock in the Province on the Niger, we hold Your Grace, and the office you so honourably occupy, in very high esteem and cannot knowingly allow any action to debase these, for whatever reason.
"We beg Your Grace to kindly forgive this publication, with our assurance that there will never be a repeat of it, in future and evermore."
Meanwhile, according to a statement from the Archbishop's media office, signed by the Director, Media, Communication, Research and Public Relations, Province of the Niger, Comrade Odogwu Emeka Odogwu, PhD, Archbishop Ibezim accepted the apology without prompting, but wondered what the rush to press without investigation. He noted the need for proper investigation by journalists before penning down sensitive issues.
"It would have been a different song, if the Orient Daily Newspaper had met us in court for libel, but when I saw their apology letter, I was handicapped. Journalists should be journalists and nothing else," he said.