Rita Dominic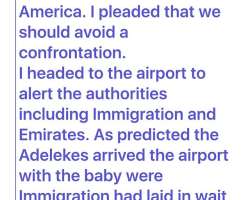 When Rita Dominic closes her eyes she imagines herself strutting her stuff with the best top movies stars Hollywood has to offer. Rita aka silky skin who has a beautiful figure that suggests sensible eating and her fair share of spending time at the gym has certainly come a long away from her days of TV programs such as Children's Variety, Junior Opinion, winning several dance competitions both at the local sports club and whilst at Federal Government College Ikot Ekpene where she gained her GCE 0-LEVEL qualification.
Rita, Uchenna, Nkem, Dominic, Waturuocha who was born on 1 July, 1975 and has always reached for the stars, attributes her inspiration to the encouragement of her immediate close knit family consisting of her parents, two elder sisters and a brother.
Especially her late mum who identified her obvious talent at an early age supported and nurtured her academic, social achievements and was very instrumental to her success as an actress.
From when Rita Dominic was about three years old and attending YMWCA nursery school Aba to Constitution Crescent Primary school all in Abia State Nigeria it was obvious she was destined for fame, at the time, mostly because of her excellent and unique singing and dancing talent, Rita whose hobbies include acting, singing, watching movies, reading and traveling graduated from University of Port-harcourt with a BA (1-lonours) Degree in Theatre Arts in 1999 hails from Abiah Mbaise local government area in lmo State and belongs to the Royal Waturuocha family.
Blessed with stunning and very attractive looks, Rita favours the indian rock cheek style and enjoys spending time with her friends and family when she is not on a movie set.
She recently visited Sierra Leone with some of her colleagues and was overwhelmed by the turn out of fans at the airport, a lot of them wearing t-shirts with their names on them. The Nigerian committee in Dublin also recently presented her with an honorary award.
Other facts about RitaPhilosophy - Always strive to achieve your heart's desire
Can't Do Without - Her Walkman or CD player
Type of Music - Oldies to jazz sentimental
Best African Food - Afang soup and semovita
Beauty routine - Mild cleansers and face wipes
Style of hair - I like the Afro hair because it sooths my face
What she admires in people - She likes natural and humble people
What I find attractive in a guy - Cool, polished, intelligent and 100% dress sense
HERE IS A LIST OF MOVIES THAT RITA HAS FEATURED IN
ALL MY LIFE 2004
GOODBYE NEW YORK 2004
INDECENT ACT 2004
NIGHTS OF RIOT 2004
PASSION OF MIND 2004
SINGLES AND HARRIED 2004
THRONING STONES 2004
A NIGTH TO REMEMBER 2003
ACCIDENTAL DISCHARGE 2003
ANOTHER SIDE OF LOVE 2003
BACK FROM AMERICA 2003
BLIND LOVE 2003
EREAK UP 2003
CONTROVERSY 2003
HERO OF LOVE 2003
HONEY MOON 2003 PLAYER 2003
STOLEN HEART 2003
STREET LIFE 2003
TO LOVE A THIEF 2003
UNFORGETTABLE 2003
FATE OF LIAR 1999
HONEY MOON 2003
HOSTILE HOSTAGE 2003
LEAN ON ME 2003
LOST PARADISE 2003
LOVE TEMPLE 2003
LOVE U FOREVER 2003
PAINT MY LOVE 2003
WHO KILLED MY HUSBAND 1999
ABA RIOTS 1990
BLACK SHEEP 1995
CHILDREN OF TERROR 1995
CORNER TONE 1995
TIME TO KILL 1990
FUGITIVES 1999
MY HEART DESIRE 1999
ORIGINAL SIN 1999
PLAY BOY 1999
PRISONER OF LOVE 1999
SILENT TEARS 1999
SOUL MATES 1999
THE SOUL THAT SINNET 1999
WHO KILLED MY HUSBAND 1999