FILM-MAKER JOHN WOO RECEIVES TOP HONG KONG HONOUR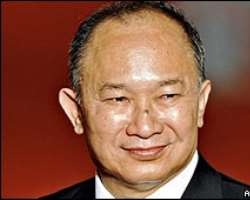 Film-maker John Woo has received a major Hong Kong accolade in recognition of his contribution to cinema.
The 63-year-old received the Silver Bauhinia Star, an award named after the territory's official flower.
Woo made a number of action thrillers in Hong Kong before moving to Hollywood to make such films as Face/Off and Mission: Impossible II.
He returned to Chinese cinema in 2008 with the two-part historical epic Red Cliff, released as one movie in the UK.
Woo's next film is Reign of Assassins, a Chinese martial arts epic starring Michelle Yeoh which he co-directed with Su Chao-Bin.
Later this year he will receive another lifetime achievement award at the Venice Film Festival.
The Hong Kong government announced its annual honours on Thursday to mark the 13th anniversary of the former British colony's return to Chinese rule.
Previous recipients of the Silver Bauhinia Star include actor Chow Yun-Fat, who Woo directed in such celebrated thrillers as The Killer and Hard Boiled.