PDP GOVS'LL DECIDE WHO PICKS PRESIDENTIAL TICKET – AMAECHI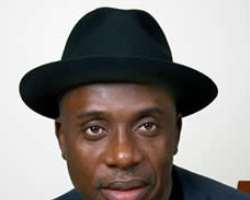 Gov. Amaechi
Rivers State Governor, Rotimi Amaechi has declared that the Peoples Democratic Party (PDP) governors still hold the ace despite the insinuation that they have lost out with the change of leadership in the party.
The immediate past National Chairman of the PDP, Prince Vincent Ogbulafor who is facing graft allegation was believed to be a stooge of the 18 PDP governors who were alleged to have appropriated Wadata Plaza, the party's national secretariat, while Ogbulafor was in the saddle.
But speaking with journalists in Abuja on Tuesday night at the Rivers State Governor's Lodge, Asokoro, Amaechi dismissed as misplaced, the notion that the governors had lost out in the new dispensation.
He told newsmen that the relevance of the governors would be felt again when the time comes to pick the party's presidential candidate. 'The governors will eventually sit down and discuss. Some of the delegates to the national convention of the Peoples Democratic Party are Special Advisers/Assistants or their aides. So no matter what you do, the governors will still beg their aides to come and vote.
' Reacting to speculation that the South-South governors are not in support of President Goodluck Jonathan in his speculated bid for the party's 2011 presidential ticket, the Rivers governor described the rumour as uncharitable.
'It is when we get to that point (national convention) that you can accuse Niger Delta or South-South governors of not supporting the President. Please, please, it is not good to be carrying this kind of rumour.
'Some people have written about it, we did not reply. The question you should ask is when we held the Governors Forum to endorse Jonathan as Acting President, did the South-South governors oppose? The answer is no. So, how did you reach your conclusion? It is like some people want South-South governors to dance naked to express solidarity to Jonathan.'
Amaechi, however, denied that the zoning issue was causing crisis in the party. He told journalists that what was being viewed as crisis was simply competition among individuals for relevance. 'I am not aware that there is crisis of zoning in PDP. I am aware that the party is still strong and heading for an election. Truly, I am not aware that there is crisis. But usually there will be competition among individuals, for either presidential or governorship and they employ all sorts of strategies. In fact, the governors suffer most.
Watch out between now and the next election, you will see all sorts of petitions. Commissioners would be arrested and all that because the most important economic variable is government and people are desperately struggling to get it, not because they want to do much, but once you get it, your stomach would grow like mine,' Amaechi said jokingly.