US FINANCIAL REFORM PASSED BY HOUSE OF REPRESENTATIVES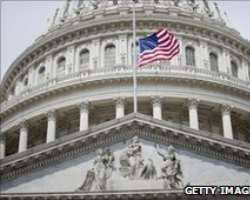 The US House of Representatives has approved a landmark bill designed to overhaul the US financial system.
The bill will now go to the Senate, although that vote has been delayed until mid-July, ending President Barack Obama's hope of signing the bill into law by the end of the week.
The Senate vote is expected to be close, however.
Mr Obama made a commitment to overhaul the banking sector following the 2008 financial crisis.
He welcomed the bill's passage in the House, by 237 votes to 192.
"It will make our financial system more transparent, so that complex transactions that escaped scrutiny in the past will now be done in the light of day," he said in a statement.
The legislation creates a new federal agency designed to oversee consumer lending and outlines new regulations for complex financial instruments.
"Never again should Wall Street greed bring such suffering to our country," said House Majority Leader Steny Hoyer, following the vote.