TURKEY AND ISRAELI HOLD FIRST TALKS SINCE FLOTILLA RAID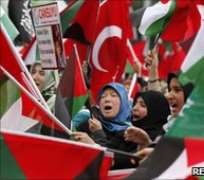 Israel says it has held its first high-level meeting with Turkey since the latest row between the former allies over Israel's killing of Turkish activists on an aid-ship heading for Gaza.
An Israeli spokesman told the BBC the meeting had taken place in secret between the Turkish foreign minister and the Israeli trade minister.
The spokesman said the meeting was at Turkey's request, but Turkey has not confirmed this.
Israel's Foreign Minister, Avigdor Lieberman, has accused his Prime Minister, Benjamin Netanyahu, of undermining his authority by arranging the meeting without telling him.
The two men involved – Turkey's Ahmet Davutoglu and Israel's Benjamin Ben Eliezer – are reportedly on good terms.
"The foreign minister takes a very serious view of the fact that this occurred without informing the foreign ministry," said a statement issued by Mr Lieberman's office.
But Mr Netanyahu's office said the failure to notify the foreign minister was merely due to "technical reasons".
"Minister Ben Eliezer informed the prime minister of an offer by a Turkish figure to hold an unofficial meeting," it said.
"The prime minister saw nothing to prevent such a meeting, as in recent weeks there have been various initiatives for contacts with Turkey."
There are conflicting reports about where the meeting took place, with one source saying Switzerland and another Brussels.
Turkey had threatened to limit economic and defence ties with Israel, after it carried out a raid on a flotilla of boats trying to reach Gaza in late May.
Nine people, mostly Turkish activists, died when Israeli troops stormed a ship.