TEXAS ON ALERT AS HURRICANE ALEX SWEEPS IN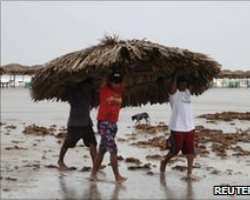 US President Barack Obama has declared a state of emergency in Texas as Hurricane Alex threatens the coast with winds of over 100mph (155km/h).
Alex, now a category two hurricane, made landfall in north-eastern Mexico near the border with Texas.
Heavy seas caused by the first Atlantic hurricane of the season have already disrupted BP's oil spill clean-up in the Gulf of Mexico.
Boats skimming the slick have been sent back to port by the US Coast Guard.
High waves and strong winds generated by Alex have also pushed more oil from the spill on to beaches in Louisiana.
"The sad thing is that it has been about three weeks since we had any big oil come in here," said marine science technician Michael Malone.
"With this weather, we lost all the progress we made," he added.
A huge oil patch has been pushed towards Louisiana's Grand Isle and the uninhabited Elmer's Island, dumping large tar balls on the beach.
Oil dispersant flights and controlled burning operations in the Gulf of Mexico have also been postponed.
However, Alex is not stopping oil recovery at the scene of the leak, 50 miles (80km) off the Louisiana coast.
Two vessels are capturing oil gushing from the wreck of the BP-leased Deepwater Horizon rig despite waves of up to 7ft (2.1m).
The deployment of a third vessel has been delayed until the weather improves.
A containment cap is capturing up to 25,000 of the estimated 30,000 to 60,000 barrels of crude spewing from the ruptured well every day.
Mr Obama's emergency declaration allows the Federal Emergency Management Agency (Fema) to co-ordinate disaster relief efforts, the White House said.
Roads flooded
Alex made landfall at Soto La Marina in Mexico's Tamaulipas state at about 2200 local time on Wednesday (0200 GMT on Thursday), the National Hurricane Center (NHC) said.
The storm, which is moving west at about 10mph, is about 110 miles (165km) south of Brownsville, Texas.
Heavy rains have already flooded roads in the Mexican town of Matamoros, across the border from Brownsville.
And hundreds of Mexicans living in fishing villages along the Gulf Coast have fled inland to take refuge in storm shelters.
The NHC warned earlier that torrential rain could cause flash floods and mudslides in north-eastern Mexico and southern Texas.
It also warned of a storm surge of up to 5ft (1.5m) spreading several miles inland along the affected coast.
Alex is the first Atlantic hurricane to have formed as early as June since 1995, according to the NHC.