Framing Ffk's Diatribes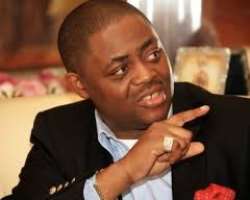 I prefer to observe politicians with whom you know where you stand. It is rare to find a politician that takes unconventional stances in situations. David Oluwafemi Abdulateef Fani-Kayode does that thing quite conveniently. You always know where you stand with him. He is a proud man, and for many reasons. Yet, he digs himself in a fighting position in the face of a likely political annihilation. I personally had believed the 16-billion-dollar electricity question. My teacher influenced me to compare the 16 billion dollars meant to revamp electricity in Nigeria with how much money it cost the Arabs to build Dubai. Fani-Kayode fought to explain, in his usual demeanor and accused the U. M. Yar'adua Administration of trying to destroy Olusegun Obasanjo by peddling the rumour. As if to confirm his opinion everything and everyone went quiet, save SERAP which wanted to know how, compared to 16 billion, a paltry 146 million dollars got lost.
I have seen only a few politicians in history with such traits. They are in high demand. In a 1981 interview with Peter Pan in Africa now, Awolowo sounded confident that he knew where he stood with the Sardauna and would have worked with him had he taken the job of Prime Minister. Joseph Stalin was a terrific figure in his day. He killed people, was loved by many, hated by many more. His successor was a weighty uppercut to the jaw of his gigantic image which summarized world history. Nikita Kruschev would later dispassionately demolished the figure in a speech that shattered the backbone of the global left; dissolving the huge communist crowd of the United States and severing the bond between it and the Chinese Communist Party. "A cult of personality," he called it. Its effect resonates till this moment. Kruschev was not committed to the struggle. He played politics with Cuba. Fidel Castro could not stomach his chagrin. He threw up the middle finger in the face of the Soviets.
Castro himself was a dubious being. As soon as he became powerful enough, the burden of having to cope with non-Marxists in his tent was done away with quickly. Ordinary activists and fighters who had been with him since Moncada were obliterated from government.
Fani Kayode has stood in opposition to what he believes to be an imbalance in the power distribution between north and south. He has poured out his heart to the cyberspace even when he knew it cannot be undone.
For a time, he was part of the All Progressives Congress. He moved back to the People's Democratic Party for which he gave shocking reasons. The passion with which he has articulated his disdain for ethnic jingoists mostly of the Fulanoid stock who are committing murderous crimes in the high and low places is astonishing, fearless, refusing to acknowledge the potential danger in insulting the North's carbalists. Indeed possibility exists that in an enclosure where only God can see the deeds of men he eats with them, it is unclear whether he is viewed as friend. What is clear is the sense of meaning in what he wants to do.
Fani-Kayode once wrote in criticism of the organization of the presidential press corp:
"I see Shehu Garba, Buhari's media assistant's magic hand in all this. He sat directly behind the Nigerian correspondents like a bulldog, breathing down their necks and quietly warning them not to ask any difficult questions about their own country at the White House and in a foreign land."
In a diametrically opposing occurrence, a short fuse box exploded. It was touched off with a little help from an enthusiastic public servant. A lawyer friend opined that the last button on the detonator was the word "bankroll". The journalist might have used the word in personal conversations with his friends in the office. In the political space, the word is not taken the theoretical way. It meant many things; being sponsored by people with unholy intentions; being unable to afford the needs of the present moment. In my interactions with politicians, the word was not used to describe anyone in their good books.
"He was bankrolled". Perhaps Joe Biden and his Democratic Party would laugh off the word for the truth in it, the public knowledge of his personal history and the dealings of the party. I know Trump would not. He would take time to dish his harangue to that person. Being able to sponsor yourself is a source of pride in politics, on a general note. Stylishly, Kadaria Ahmed asked 'Yele Sowore about his finances. I watched 'Yele squinting, sharply responding to the interrogatory question Kadaria posed.
The politics of the United States is messy especially with the Democratic Party. Some of its supporters use federal laws to obtain information about the sponsors of a Republican Party candidate or cause. The sponsors are targetedand, usually, it ends badly with them. Some become victims of cyber bullying, sabotage and public shaming. Many conservative supporters lost their jobs.
"Who is bankrolling you...?"
"And a fool expects an answer."
The journalist called a shot he is unable to sustain. A radical journalist would have done better than taking in the diatribes. If he had known better, he would have helped himself to a bottle of ginger ale and pepper soup to boost confidence and suture body and spirit because he was invariably approaching the turning point in his career. The journalist was not duty bound to become self-abasing in the face of a self-asserting bellower. I beg the pardon of my Robert Greene people, he did not "enter action with boldness". With all the insults he endured, he still stopped short of "court(ing) attention at all cost." He probably was redrafted from the sports desk and handed the questions. A journalist who would ask such a truculent question should have been ready to insist. A simple clasping of the hand accompanied with "you may decline to answer the question but please! Do not call me 'stupid'". He could have said it loudly and assertively. No, he was not ready. He probably would lose his job for it. Cool, calm and gentle except for asking a truculent question capable of doing damage to image. President Trump was asked by a journalist "excuse me, what did you just say?" A split second after Trump had said that the journalist hardly thinks.
The journalist called the shot and took it at the same time.
Ojo, Aderemi lives in Ibadan, Nigeria. He makes podcasts on Anchor FM to share knowledge on Nigeria's history. To reach him via email click here. Follow him on Twitter: @oj_deremi. His personal website is ojoaderemi.com
Disclaimer:

"The views/contents expressed in this article are the sole responsibility of the author(s) and do not necessarily reflect those of The Nigerian Voice. The Nigerian Voice will not be responsible or liable for any inaccurate or incorrect statements contained in this article."