Joke Silva... Passion of a screen mother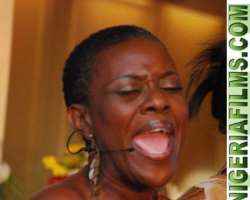 "Pass me your love eh, tiletile pass me your love eh…" That's Joke Silva's caller tune when I rang to announce my arrival at her Ikoyi office, where we had earlier scheduled to meet for an impromptu chat. The screen diva was yet to arrive, so, I had to wait in company of her two truly hardworking office assistants.
Few minutes latter, her car wheeled into the premises, making a final stop jus few steps from the door.
"Aunty is here," the lady assistant announced with excitement, as she ––followed by the young chap –– ran out to receive 'madam.' From their jubilation, it appears there's good news. To crown it all, Joke's said, "We thank God; things are falling in line for us."
After a nimble at some cookies, Joke is ready for the interview, but not in her office; we had to do that in her car, since she had a meeting to attend in Ikeja that morning.
If you belong to the long list of fans missing Joke Silva on screen, then you need not worry much; your darling has crossed over to real business.
"Nowadays, acting-wise, I probably get to do one or two films a year, or say a stage production. There are so many issues that needed to be dealt with for the growth of this industry. One of them has been capacity building; Improving the skills and knowledge base of those who are in the industry and those who are coming into the industry; that has been a major concern for us."
Was that why you set up the film school?
"Oh yes, yes. The Lufodo Academy of Performing Arts… we've been working as drama teachers in various schools for years since 1993. Along the line, we started training actors on one-on-one basis; we offered such services. Later, we decided to set up a full-fledged school for the profession."
Unfortunately, most Nigerian actors don't really believe in re-training?
"It's a matter of orientation; it's a very understandable position to be in. I mean you are earning money, you are acknowledged everywhere you go… so, sometimes, you feel there's no need for you to train. But if we look at ourselves as professionals, there's nobody in any profession that doesn't go for continuous training. My mentor, Mr. Fola Adeola, told me years ago that he always spends, at least, two weeks back in the classroom every year. So, if a banker, a successful one at that can say that, who are we to say that we don't need training. We just need to change our mindset," she says.
How far have you gone with the school?
"The response has not been bad at all; we just got the keys for a building in Lekki, a 10-room facility, where we will have the studio one side, and the school on the other side. I won't say quantity, but the quality of people we are getting is fantastic; we have people who are passionate for the industry and that for me is key."
IN collaboration with the African Women Development Fund (AWDF), Joke recently staged a film forum in Lagos, with the issue of poor representation of women in movies, topping the agenda.
"Nollywood has become so successful to the extent of overtaking other older film industries to become the second largest movie industry in the world. However, we seem to kind of regurgitate particular set of characters. Being a woman, I'm focused on the women; it's not as if it doesn't happen to men, but with the women, if we are not witches, we are bitches, if we are not harlots, we are sluts.
"It usually works out that the mother-in-law is always a witch and the lady in the city is always a slut, a woman in the position of power is always a bitch… it's just a stereotype! It was just nice to meet an organisation that felt very passionate about the situation and wanting to do something about it.
"One of the aims of the AWDF is, knowing that so many bodies want to use film as a cultural tool for advocacy. There are so many organisations of civil society that have various issues they want to advocate and they've realised that one of the most popular culture is the motion picture. But there needs to be an understanding on some of the issues the industry is facing."
How did the collaboration come about?
WHEN the AWDF got in touch with me, they had been pointed in my direction that I'm someone who had been in the industry for many years and understands the industry. They were proved right because we had a wonderful working relationship; it was actually Mr. Kunle Ajibade that introduced them to me. Let's sit down and look at these things; it's possible to tell the same stories without stereotyping."
Already, the forum is yielding positive result.
"I think one of the beauties of the forum is that a lot of people are coming up with more ideas on how to get things done; there are just various things that are in incubation right now, stemming from the Film Forum. But as for the film forum, it's going to be a continuous thing."
TO say that Joke Silva is a role model in the industry is an understatement. In fact, she's the face of Nollywood!
"I think it's God's special grace; I didn't set out to be a role model," she says bursting into laughter.
… But it happened?
"I never did; it was just that I love my profession and I love the industry. I believe in it as a tool for development. If people see me as a role model, then I thank God."
But you get to hear such comments?
"Yes, I do. Sometimes, I always say to God that: one, it mustn't get to my head. But the chances of even getting into one's head are very slim because it's actually very pressurising; it puts quite a lot of pressure on one. So, it's something I've learnt to cope with; that's why I always remind myself that I didn't set out to be a role model in the first place. For me, the most important people to be role models to are my children; once I can focus on them, then I'm fine."
For those, who had concluded that Aunty Joke selects scripts she plays, well, you are partly right and partly wrong.
"It's a little bit of both. When I started out in the industry about 30 years ago, it was a no, no to kiss on screen. I actually started out playing a woman, Lawyer Mariam, who was having an affair with a married man in the movie, Mirror In The Sun. You never saw a scene bed, you never saw us kissing. But soon after that, the writer shifted my role away from that and concentrated on the lawyer part."
Was that deliberate?
"Yes, it was a deliberate thing by her (Lola Fani-Kayode). It was just the kind of image that we decided to build for me. Over the years, I have come to the point where there are some stories I want to be told, but told responsibly. There was a pilot that we shot early this year in which you see my character kissing somebody, having an affair. But it's all very subjectively done. The issues are being examined, that's the important thing."
In case you plan to have Joke play nude in your movie, hey, please try another actress.
"I really don't believe in the exposure of the body just because sex sells; after a while, it becomes pornography. I think there are ways you can do it and it still remains art; the less you see, the more you leave to imagination; that's what I believe. It's not as if I'm against the allusion to sex as long as it is not just for the sake of sex, but what issues are you exploring?"
Working with her husband, Olu Jacobs seems very interesting to the award-winning actress.
"I enjoy it; I learn a lot from him because he's a master craftsman. I guess that's the reason they want to have him on set because he gets to help them a lot; he has a way of being able to communicate with them. Once he's in a scene, he helps a lot, guiding them in the process."
WHILE we were on the chat, Joke's driver missed the route; he headed for Ojota instead of Anthony village.
"Oh, you should have taken Anthony to Maryland, Udok, you are taking us so far back," she frowned.
However, we managed to make a turn through the Ogudu GRA Bridge, heading back through Gbagada to Maryland; I was actually the guide; oh yeah.
Why Joke Silva instead of Joke Jacobs, I asked to break the silence.
"It's my professional name; it's as simple as that," she responds with those smile that had disappeared minutes ago. "It has never been an issue with us, so, we are always surprised when people ask us over and over why I choose to answer Joke Silva; it has never been an issue."
It a popular opinion that artistes find it difficult to manage their unions, yet Joke and Olu have been together for 25 years now.
"Obviously, it's God's grace she," declared. "A lot of times, we always say that this is a union God insists must work. We've had a lot of challenges, but we've also learnt from what our uncle told us when we were getting married, 'to learn to forgive each other because neither of us is a saint.' We've been able to do that and we are enjoying each other's company. And I think also that patience has been helpful."
HOW did you meet your husband husband?
She smiles, as if trying to search her memory. "We met at the National Theatre; he was invited by the Late Dr. Garba Asiwaju, who was the Director of the Department of Culture (with office at the National Theatre), to come and take part in the first public exhibition of Soyinka's Jero's Metamorphosis, to play Jero and also co-direct. I had already been on the project by the time he arrived from England; he was on a show in England at that time."
What happened?
"We were in rehearsal at the mainbowl of the National Theatre and I had been asked to call Mrs. Enem (the artistic director), as one of the youngest in the troupe, to see what we had done so far. So, I went and there was this man sitting opposite the door. As soon as I came in, he goes, 'wow, this is the lady I'm going to marry.' I felt, 'what a stupid, common lying.' It was very embarrassing because the room was full with a lot of people."
You never met him before then?
"No, I never met him. After the meeting, he apologised for embarrassing me and we became friends; we had a lot of laugh then," she enthused.
Were you in a relationship then?
"Of course, yes. He came and soon after that, we started dating, then we got married."
So what happened to your old lover?
"Well, I had to finish that one before we started dating."

Olu is cool with my dressing
What is fashion to you?
"Elegance and comfort; people have told me about the elegance, but I've always loved to be comfortable."
You love Jewelry?
"I like fun jewelry. For instance, this one I'm wearing now," she said displaying her bangle, "my younger sister got it for me in Italy; it's an Italian glass though it looks like ivory. I like afrocentic things a lot. It's not as if I don't like precious stones and metals as well, but it's a mood thing for me. I dress for the occasion but for myself; I don't try to impress anybody."
Not even your Olu?
"He's always liked the way I dress, so, he's not an issue."
And perfume?
"I love Van Cleef and Arpel; Amarige too."
What would you not be caught wearing?
"Bikini; I wore a bikini last when I was probably 13 or something like that," she mused. "Anything that shows my half, no!"
What would you have loved to do aside acting?
"Maybe teaching. I love teaching or law."
You love Law?
"I'm not really crazy about being a lawyer but I love the legal mind; the way the mind is trained to see loopholes."
At what point will you stop acting?
"Until I can't learn lines and that will probably take me to my 80 and early 90s. As long as I'm alive, there are people stories I can tell no matter my age; that's the beauty of this profession."
What will you love to change about Nigeria?
"A love for the country; I believe if everybody would love and have pride for Nigeria, it will be a totally different thing."