Nba Sneezed And The Nation Caught Cold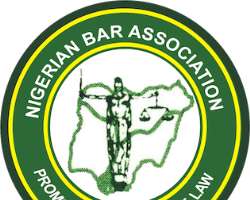 We must be able to clarify the issues that trailed the NBA 2020 conference as objectively as possible for posterity. Invitation and dis-invitation are part of the annual conference. In 2007 Prof Maurice Iwu was invited and dis-invited heavens did not fall; this year Gov. Nasir El-rufai was invited but protests from the rank and file of lawyers and non-lawyers stopped his invitation and the heavens is about to fall with the creation of a parallel bar for the North where Gov El-rufai comes from.
The NBA as an umbrella body must exist before anyone seeking relevance underneath the corpus. Therefore you and your cause cannot be bigger or more important than the superstructure. Religion is a personal burden of members not that of NBA or its cause(s).
We have seen recently how members' sectarian leanings blurred their sense of judgment and you could notice sentiments overwhelming common legal principle like 'ubi jus ibi remedian' (where there is a right there is a remedy). Did the governor ever said, 'hey why did NBA take away my right?' –(legal or equitable). Instead sympathizers, gladiators, impostors, interlopers, meddlers etc. began to ask for the restoration of non-existent 'right'. But the governor has personal legal adviser besides the public law officer of the state, Attorney-General and Commissioner for Justice.
In the debate Edafeyivwotu Famous Onoriode posted a comment in LAWYERS IN NIGERIA platform buttressing his position by quoting late senate Presidend, Dr Chuba Okadigbo who said: ''If you are emotionally attached to your tribe, religion or political leaning to the point that truth and justice become secondary considerations, your education is useless. Your exposure is useless. If you cannot reason beyond petty sentiments, you are a liability to mankind''. I replied to this comment 'Just on point'. There is nothing in the unfolding debate but sentiments, no legal or equitable right arises.
Religious sentiments and bigotry take away all forms of knowledge acquired by humans over time once it is deployed. As tempers are rising, the relics of modern civilization are depleting. The epitaph on Shakespeare's tomb says: ''Good friend for Jesus sake forebeare. To dig the dust enclosed here. Blessed be the man that speares these stones. And cursed be he that move my bones''. This has caused havoc whether it is a CURSE to move the grave because of government's compulsory acquisition of land etc, family/relative's decision to give 'befitting final burial' or even if British public protest that Shakespeare should be re-buried in a national cemetery as a public figure. No matter how plausible these arguments are there is already a controversy (religion) waiting to overwhelm rational views comments.
In spite of my various comments on several social media platforms, what I take away is the call for Council for Legal Education to craft Bar Final examinations questions to reflect the scenario facing the nation now. NBA is not a political party. There are four Law schools in Nigeria, but are they established to produce lawyers for regional and religious feuds?
Iyke Ozemena Esq
Corporate Attorney/Consultant IKECHUKWU O. ODOEMELAM & CO
#corporateleaders
http://www.corporateleadersboard.blogspot.com www.facebook.com/corporateboard
amazon.com/iyke ozemena books
http://www.amazon.com/dp/B0075RXXLECOMPANY SECRETARIES HANDBOOK
http://www.amazon.com/dp/B005783S6SDIRECTORS
http://www.amazon.com/dp/B005MKCESY MEETINGS: Dynamics and Legality