Emeka Ike's Wife Speak On His Affair With Muma Gee.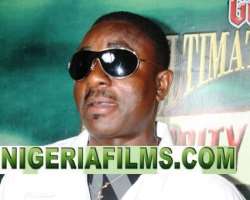 The Gulder Ultimate Celebrity Show has ended and in addition to news of Emeka Ike emerging the ultimate man, there was rumour of carnal relation between Emeka Ike and Muma Gee. They were both accused by fellow celeb participants Chioma Chukwuka, Funke Akindele and comedianne Princess – and they have both denied their allegations.
The rumour caused Emeka Ike no friction in his marriage as his wife Suzanne Rero Ike says she had a hand in all that transpired between her husband and Muma Gee, She was called and informed about the stunt..
Suzanne informed she pressurized the actor to participate in the show. She said when he was called to be a part of it – he declined and still didn't make up his mind till the very day they left for camp. "Everything he did had my blessings. It was all drama." , she said. The wife, graduate of English language. and school proprietress claims Emeka was her first boyfriend and doesn't bother herself with thoughts of Emeka Ike cheating on her or not.
Emeka and Suzanne are parents to three boys. Emeka and Suzanne met at an audition at Tade Ogidan's office where they spoke and exchanged home address then going to ask her to marry him just after she finished from secondary school, Suzanne turned him down but right after wards she got the keys to his place and never had to announce her intentions when she was coming over for visit.
About the alleged affair between Emeka Ike and Muma Gee in the camp, she said: "They called me when I was at a friend's place and told me this is what they want to do, just to give people the impression that something was going on, as if they have something together and I said, 'You can go ahead, but don't go all the way. Don't do things that will be silly and all that.' I spoke with Muma Gee. I still speak with her fiancé as well. So, they just did it so that people can speculate about something, not that I don't know what was going on. They did it with my full blessing and support."