KeKe Ogungbe, D1, AY.com and Jaywon Denied Entry To Ajayi Crowther University.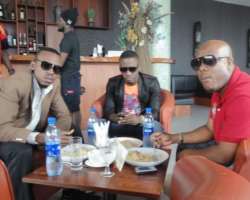 In the last four weeks in the ancient town of Oyo , Ajayi Crowther university community have been enjoying themselves with several activities for the schhol's departmental weeks. During this time, the several departments put together activities to celebrate for an entire week.
It was recently the turn for the Department Of English Language of the University and the students planned a get-together dinner/ award night – Seyi law, Ay.com, Kenny Oungbe, Dayo Adeneye, Jaywon were invited. and on the said friday when the dinner was to take place in the school premises, source inform that "Ay.com, Seyilaw, Jaywon and the Kennis Music team which was led by Keke and D1 all came to grace the event" against expressed skepticism that they would be present by most students.
Source informed that every celebrity guest arrived but were denied entrance into the school as the authority refused to bulge even after clamour by the large number of students who met them at the gate School authorities, ignoring the amount of money that could have been expended refused the guest entrance to the school – - The guest left without participating in the dinner or award night.
Our source informs that the incident made it the second time celebrities would be denied entry after been invited – Late last year Denrele, Klever J and several others were also denied entry into the school.
"The school's social life is nothing to write home about", a student said.