68 IPOB Members Arrested In Imo State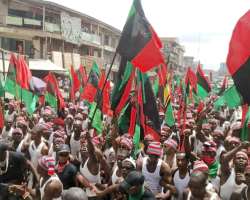 Authorities of the Nigeria police, Imo Command said it has arrested and paraded over sixty indigenes of Imo state over their alleged membership of IPOB.
Briefing journalists in Owerri, the Imo State commissioner of police, Isaac Akinmoyede said the group were on a voyage to fortify themselves against bullet penetration before they were intercepted by the army and handed over to the police.
CP Akinmoyede said, the group's action is very suspicious, that intelligent report suggests that they are nursing underground plans to attack security agencies and cart away arms and ammunition.
In their response, some of the accused persons acknowledged the fact that they are IPOB members but has not violated the law in any way, they said they were peacefully transiting without breakdown of peace and order.
Among suspects arrested are 68-year old herbalist and a 58-year old woman who lamented the continuous humiliation meted on them on daily basis, most especially the activities of herdsmen that has continue to ravage their farm lands hence the need for the fortification.