Reps Reject Move To Probe N10B Anniversary Fund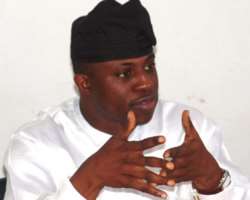 PHOTO: SPEAKER, HOUSE OF REPRESENTATIVES, HONOURABLE DIMEJI BANKOLE.

ABUJA, June 29, (THEWILL) - The House of Representatives Today kicked against a motion seeking a thorough investigation of alleged unauthorized release of fund from the N10 billion earmarked by the presidency to take care of preparations for Nigeria's 50th anniversary celebrations.

The House however gave its committees on Appropriation and Finance an ultimatum of 48 hours to conclude work on the N639.8 billion Supplementary Appropriation Bill submitted to the House four weeks ago.

Citing Order 8 rule 4 of House Standing Rule, the House Minority leader, Mohammed Ali Ndume, drew the attention of his colleagues to what he called "breach of collective privileges of the House."  

According to Ndume, reports in several national dailies had shown that the executive arm of the Federal Government had started spending the ten billion naira it had proposed for the celebration of Nigeria's 50th anniversary even without any approval from the National Assembly.

Ndume told Speaker Dimeji Bankole and his colleagues that the House needed to set up a committee to investigate the matter so as to put a stop to what he described as "a step towards unconstitutionality."

But Bankole, whose disposition appeared unfavourable to the motion simply declared that the first issue to establish was whether the House would even want to debate the matter.

He put the question as to whether the matter be debated at all and the response was a resounding rejection of the motion.

On the need to pass the supplementary Appropriation Bill without further delay, the House resolved that its two committees on Appropriation and Finance be encouraged to submit the report of their work on the Bill for final consideration of the House on Thursday.

The ultimatum followed the successful consideration of the Bill and its subsequent second reading.   

President Goodluck Jonathan had submitted a Supplementary Appropriation Bill of N639.8 billion and a request for the amendment of the N4.6086 billion 2010 budget to address shortfalls in the projected revenue and approved aggregate expenditure.

The Bill was to cater for the recently announced civil servants' wage increase and the forthcoming 50th anniversary celebration of Nigeria 's independence.

Out of the total N639, 824, 478, 183 proposed, N507, 125, 967, 248 was for additional recurrent (non-debt) expenditure while the balance of N132, 698, 510, 935 was for contribution to the Development Fund for additional capital expenditure for the year ending 31st December, 2010.

Details of the supplementary budget showed that N287, 324, 427, 248 is to take care of the recent increment in the wages of civil servants with N187.195 billion for core civil servants, N61.641 billion for wage increase for universities, N22.933 billion for polytechnics, N28.247 billion for Colleges of Education and N74.592 billion for medical professionals. Also, N12.714 billion is earmarked for payment of two months arrears to the Academic Staff Union of Universities (ASUU).