Senate: 2010 Budget Review Debate Put On Hold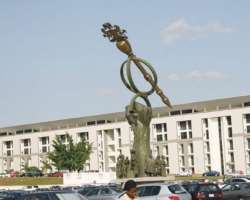 PHOTO: THE NATIONAL ASSEMBLY.

ABUJA, June 29, (THEWILL) - The proposal to review the 2010 budget sent to the senate by the executive was today put on hold as the Senate suspended debate on its general principles at plenary.
The Senators also put a break on the supplementary budget debate due to certain issues and concerns' on the bill which could not be addressed before the plenary.
Senator Victor Ndoma-Egba (PDP, Cross River), Deputy Senate Leader who announced the suspension of debate on the bill said the two bills had some issues, which are yet to be addressed.
He did not disclose what the issues were but sources at the upper chamber revealed that the Senators were not happy with the deductions from the affected sectors.
The Executive had earlier in the month asked the National Assembly to effect a downward review of the 2010 budget owing to dwindling government revenue.
There are indications that consideration of the bills may however continue on Wednesday.
The review will cut federal expenditure and reduce the oil price benchmark by at least $10. President Jonathan is asking the lawmakers to reduce the oil benchmark price, initially set by the lawmakers to $67, back to its earlier $57 per barrel.
In a letter to both upper and the lower chambers in May this year, President Jonathan affirmed his earlier position, that the N4.6086 billion budget, which he signed into law in April 2010, was no longer realistic in the face of global economic realities.
"Recent revenue developments indicate significant shortfalls in both oil and non-oil revenue, which may well continue for the rest of the fiscal year, with adverse implications for the financing of the budget," Jonathan said.
"Given the recent drop in international oil prices from the over $80 per barrel to under $70 per barrel, it is prudent to revise the oil benchmark price to a more realistic level."
In his letter, President Jonathan avoided pinpointing his preferred figures for either the oil price or the total reduction, but he is said to have called for a total budget reduction by 40 percent.
On the supplementary budget, the President also requested for fresh appropriation for "critical expenditure heads that were either inadvertently omitted or under provisioned for."
Following the 2010 budget slash proposal for an additional supplementary budget to authorize the executive access to N639.8 billion from the Consolidate Revenue Fund was put forward.
The bulk of the supplementary budget, about N507 billion is for recurrent expenditure while the balance N132.6 billion is for contribution to the Development Fund for additional capital expenditure.
A large chunk of the N507 billion set aside for the recurrent expenditure will be shared amongst the office of the Secretary to the Government of the Federation, Foreign Affairs ministry, Information and Communication ministry and the Ministry of Women Affairs to be used for Nigeria at 50.