Killing Of 13 Defenseless Benue Christians & Missing Of Others: Nigeria Police Force Likely To Have Lied Again …Intersociety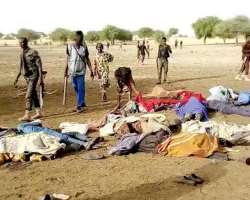 (Onitsha, Eastern Nigeria, 11thAugust 2020): According to Saharareporters of 10th August 2020, thirteen persons (Benue Christians) were confirmed dead and many residents missing after 20 (strongly suspected) armed Fulani hoodlums invaded Edikwu District under Ukpogbo in Apa Local Government Area of Benue State and shot people in their homes. The attack took place in the early morning of Monday, 10th August 2020 between 4am and 5am. The Jihadist gunmen also torched houses as residents scampered for safety, Saharareporters further disclosed.
Confirming the attack, the Benue State Police Public Relations Officer, Suwese Anene said many residents were still missing after the attack. Anene further said, "13 corpses were recovered by a team of police officers deployed to the scene following a report that about 20 gunmen had stormed the Community early on Monday, shooting sporadically and burning houses, living several dead and others missing." Edikwu Community under Ukpogbo located in Apa Local Government Area of Benue State is one of the communities recently captured in the report of Int'l Society for Civil Liberties & Rule of Law, as one of the Benue Igbo offshoot Communities experiencing incessant attacks including killings and invasions by Jihadist Fulani Herdsmen.
Police Questionable & Laughable Narrative:
"There has been a lingering crisis in the Community for sometimes now. One of the loyal families had disagreed with the choice of the kingmakers of the Community who elected the late Chief Imoni Otokpa as Alegwu of Edikwu before his demise in 2018. It was further gathered that one of the children the late king is on the throne in an acting capacity, a development not pleasing to the other royal families. Confirming the incident, the State Police Command spokesperson, Catherine Anene said the Edikwu District in Ukpogbo, Apa Local Government Area of Benue State was experiencing incessant crises over chieftaincy crises chieftaincy affair until 25th May 2020 when the Benue State Government convened a peace meeting that was headed by the Deputy Gov, Mr. Benson Abounu that put an end to the rancor".
Police Narrative Dead On Arrival:
Contrary to the Nigeria Police Force questionable and laughable narrative which was also the case in recent anti Christian butcheries in Southern Kaduna, Kogi and Bayelsa States; the latest narrative by the Force is utterly dismissive and dead on arrival. It is also contradictory as in how 'the same rancor that was resolved and ended as recently as on 25th May 2020' could somersault to the point of 'industrial scale' slaughtering 13 defenseless persons, missing of many and destruction of properties including houses. This is more so when there have never been reported cases of such killings in connection with the said chieftaincy tussle since 2018.
Killings generally also have their patterns and motives. Killings associated with chieftaincy tussles have specific patterns, motives and targets including targeted killings and abductions usually perpetrated by hired killers of 1-5 man gang; and 'not twenty-man butchers' engaging in mass killings. It is saddening that covering of Jihadist Herdsmen butcheries and protection of their perpetrators in Nigeria has most likely appeared to have been presidentially scripted and handed over to the country's security and defense chiefs as newest 'modus operandi' to use in covering the jihadist atrocities and misleading and diverting the attention of Nigerians and members of the int'l community.
It is therefore most likely correct to say that the latest Benue anti Christian butchery indisputably and undeniably has imprint and footstep of the Jihadist Fulani Herdsmen atrocities including hours or timing of the attack, place and location of the attack, ethno-religious identities of the victims (Benue Christians) of the attack, number of casualties in the attack, missing persons in the attack and properties destroyed in the attack.
Signed: Emeka Umeagbalasi, Board Chair and Amaka Damaris Onuoha, Esq., Head, Campaign & Publicity
Contacts: WhatsApp: +2348174090052, Email: [email protected] , Website: intersociety-ng.org