Abuja Bribe Money: Prince Dr Austin Ndigwe, Uzu Awka Breaks rank with Prince Arthur Eze and Renegade Igwes (photos + Video)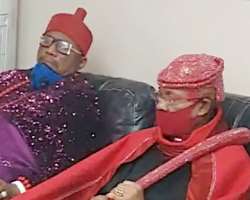 In what appears to be a major friction among the renegade Anambra State traditional rulers contracted by Anambra billionaire and money-miss-road, Prince Engr. Arthur Eze, to fight Governor Willie Obiano, his ally Prince Dr. Austin Ndigwe (Uzu Awka) has distanced himself from the disgruntled, shameless renegade traditional rulers.
Sources within their ranks confirmed that Chief Ndigwe and Arthur Eze disagreed when he learnt that the Abuja trip with the Igwes was not for a proposed major flag-off event by the Ukpo born baron but a vindictive mission to fight the Governor of Anambra State at the Presidency. Prince Ndigwe who called the Igwes together to meet Arthur was said to have disagreed on the motivation for the trip. In his words:
"I cannot associate with this kind of reckless adventure. I am not a politician. I have been in Awka for the past few months and have not travelled to Abuja. I have nothing to do with anyone in Abuja or going to see President Buhari and must be exonerated from that folly or face the wrath of Awka Kingdom."
" The Governor of Anambra State, HE.Dr Willie Obiano has been friendly with the Traditional Council of Awka kingdom. There is no rift between Obiano and Ezeuzu III, I only called on the Governor to build more infrastructure in Awka Capita ll city." Uzu Awka affirmed.
Latest video video show Prince Engr Arthur Eze and the shameless renegade Igwes at his Abuja home. Arthur can be heard calling for the bribe money shortly before the failed trip to the Presidency.
Also Seen in the video are Igwe Okalakwu of Igbariam, Igwe Alor, Igwe Ifitedunu, Dr. Emeka Ilouno, former Chairman of Anambra state university teaching hospital (COOUTH AMAKU) etc. People are surprised that a bright medical doctor like him who has enjoyed patronage from Governor Willie Obiano will agree to sell his soul for a plate of porridge.