Enugwu-Ukwu United Youth Forum Condemn Smear Campaign Against Anambra First Lady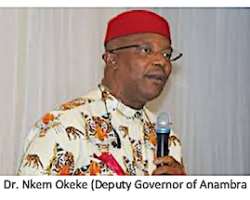 The President of Enugwu-Ukwu United Youth Forum, a socio-cultural youth organization, Engr, Desmond Obidike has condemned a concocted publication on social media titled "Anambra First Lady Plot to Impeach the Deputy Governor Nkem Okeke." The facebook post was made by one Akweke Francis Okoye who purports to be speaking on behalf of a non-existent organization: "Enugwu-Ukwu Youth Stakeholders," and appropriated by AIF media, a Facebook group platform known for pay-pay-attack and political rumour mill.
Engr. Obidike said that it became necessary to speak out and dissociate Enugwu-Ukwu youths from an obvious politically motivated post which does not represent the truth. Dr. Mrs. Ebelechukwu Obiano (Osodieme) does not control the Legislature and could not be in a position to orchestrate any impeachment. This is pure fabrication aimed at knocking heads together for the benefit of political enemies and should be ignored by not just Enugwu-Ukwu youths and citizens but discerning members of the public.
Engr. Obidike explained that records and investigation at our disposal show that there is no consensus or gathering of Enugwu-Ukwu youths to fight the course of our son and Deputy Governor of Anambra, Dr. Nkem Okeke because there is no need.
"We are very much aware, of a pervasive rumor on social media fueled by political opponents of the Governor of Anambra State, Chief Willie Obiano (Akpokuedike). Most of the lies are targeting the wife of the Governor over alleged disagreement with the Deputy Governor. Whereas we don't have any proof of any public spat and there is ample evidence that our son is doing his job and has not complained that he is threatened. Why would any progressive youth co-opt Enugwu-Ukwu youths in the political smear campaign of his pay masters against the wife of our amiable Governor -Osodieme? We therefore condemn the allegation and call on Enugwu-Ukwu youths to ignore the rumour."