UNTIL WE HAVE CREDIBLE POLLS, ABIOLA DIED IN VAIN, OPC LEADER, GANI ADAMS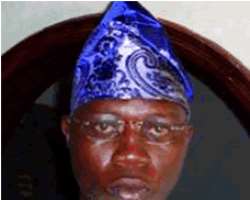 Gani
National Co-ordinator, Oodua Peoples Congress (OPC), Otunba Gani Adams, has said that the kind of democracy practised in Nigeria is far from what those who struggled for civilian rule bargained for.
He told Daily Sun in Lagos that the rule of law and other components of true democracy are still lacking in the country. Besides, he said the nation's democracy has been hijacked by people who lack democractic credentials.
'What is happening now is that most of the people who do not believe in democracy are in power. And they determine what is happening in this country. So, what kind of democracy do you expect that we would have', he stated.
He also spoke on the need to honour the presumed winner of the June 12 , 1993 presidential election, the late Chief MKO Abiola
Excerpts:
The purpose of Abiola's death is not actualized
We haven't actualized what Chief MKO Abiola fought and died for. This is not the democracy of our dream. This is not the democracy we fought for. This is not the democracy we planned to have. The democracy we planned for was not only to have a democracy. We were planning that we will have Nigeria restructured, before we can have democracy. And we thought that the government in power then would see reason that without restructuring there was no way we could have a proper democracy. Unfortunately, 90 per cent of the people that were against June 12 hijacked the democracy after we had fought for it and the military government allowed some few radicals to form their own party, which is the Alliance for Democracy (AD). After a period of time- in 2003, the few people who were part and parcel of the struggle were flushed out of the system by the Obasanjo-led Government.
Out of the six governors, five of them were flushed out, except former Governor Bola Ahmed Tinubu. Most of the enemies of democracy hijacked the system. What happens now is that most of the people who do not believe in democracy are in power. And they determine what is happening in this country. So, what kind of democracy do you expect that we would have? Either most of them have military antecedents, or they are apologists or puppets of the military. Or some of them are conservative and do not believe in progressive ideology. Those are the people who are controlling this country.
You can see what we are experiencing now. The rule of law is not in place. The issue of separation of power is not reflected in our governance. And at the same time, the country is not moving forward. Our country was rated one of the most corrupt countries. As big as we are, as the most populous black country in the world, our country is still poor.
With all our good brains and technocrats, our country is not moving forward, in terms of technology and infrastructure. There is nothing to show for it. So, we believe we don't still have a democracy of our dream
Why we mark June 12 annually
It is a reflection of what happened in 1993. You will remember that Nigeria started having serious problem since 1993. Our economy started having problems. We lost the kind of recognition we had in the international scene. Most of the countries that invested in Nigeria moved their industries out of the country after the annulment of June 12 1993 election. So, we are using that programme firstly to acknowledge the efforts of our heroes and heroines, and to give a signal to the government that this man has to be honoured.
He has to be immortalized. This man has to be recognized posthumously as president-elect. At the same time, educate our people that there is no election like a free and fair one. If you don't have a free and fair election, there is no way the government can govern the country very well. Because if I don't vote for you, and the powers that be now impose you to be my leader, to be the commander in chief of the country, there is no way my spirit will be happy with you and your leadership.
So, remembering June 12 means a lot to our democracy, a lot to our dear country. Means a lot to our upcoming children, because our upcoming generation do not know about June 12, but through the programme, they will now understand that something like this happened before. Since this younger generation would be the leaders of tomorrow, they would have learnt from the mistake of the June 12 annulment, so, that in future when they are in power, they will not allow such a thing to happen again in our country.
How Abiola should be honoured
Some monuments should be named after the late Chief MKO Abiola. We have a lot of things that the Federal Government should name after Abiola as a sign of recognition. When you go to Abuja, most of the foreigners that you don't even know, have good streets named after them. We can easily say that Abiola sacrificed himself for this democracy. Because, if not because of Abiola's death, the military would not have organized an election within 11 months. Abdusalami came to power and handed over within 11 months. It has never happened that the military would handover power within 11 months. It was because of the detention and death of Abiola and the pressure that was coming from the international community and locally from the civil society groups. And when the country became ungovernable, they had to hand over to civilians.
This person died because of democracy. He was not honoured. He was not recognized. Despite the fact that he won the election; the most free and fair election, you did not even recognize that person. And you are now calling people who antagonized June 12, when the struggle was on as their excellencies. How do you want that country to move forward? It is only Lagos and Ondo State governments that have given recognition to those who fought for June 12.
Some of the governors do not even want to know those who fought for democracy. Even those of us who are still alive, some of them call us hooligans and thugs. When we were fighting for this cause, some of them were contractors in Abuja. Some of them were agents to the government, working against this democracy. But today they are calling us different kinds of names.
How Nigeria can move forward
Before Nigeria can move forward, the country must be restructured.