ILLEGAL GHANA GOLD MINE OWNER ARRESTED AFTER COLLAPSE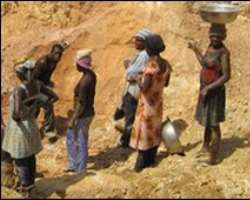 Police in Ghana have arrested the owner of an illegal gold mine which collapsed on Sunday after heavy rains, burying large numbers of miners.
There are fears that an estimated 100 people have been killed in the accident in Dunkwa-on-Offin, central Ghana.
At least 15 people survived. Rescue workers are continuing search efforts, but have been hampered by flooding.
The West African nation is one of the continent's largest gold exporters.
Municipal chief Peter Owusu-Eshia said the owner had allegedly hired 136 people to work in the mine.
As the mine was being run illegally, it is unclear how many were in the mine at the time of the incident.
Local fire official DO Adusa said survivors were withholding information about the operation.
Pumps and divers
Faced with flooding, rescue teams are using water pumps and divers to look for bodies and survivors.
"At this stage I don't think we can get any survivors, those who are already trapped, I believe they may be dead now," local police commander Supt SK Buabeng was quoted as saying by the Joy Online website.
"We are trying our best to get the bodies recovered."
Last year, the death of 15 miners was said to be Ghana's worst such disaster.
Ghana, previously known as the Gold Coast, remains one of Africa's biggest producers of the precious metal.
Multinationals operate in the country but villagers often dig their own pits or hope to strike it rich in abandoned mines.
In such cases, there are few, if any, safety precautions.