LARRY KING TO END LONG-RUNNING US TV CHAT SHOW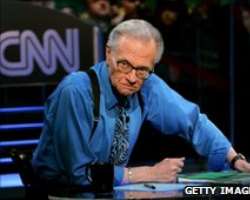 Veteran broadcaster Larry King has announced that he will be ending his nightly show on CNN in the autumn.
Over 25 years of the show, King, famous for wearing braces, has conducted more than 40,000 interviews.
Larry King Live recently made it into in the Guinness Book of World Records as the longest-running show with the same host in the same time slot.
The news comes at a time of falling ratings for the show. King, 76, said he would spend more time with his family.
His marriage to seventh wife Shawn Southwick had appeared to be on the point of breaking up earlier this year when King filed for divorce.
The couple have since reconciled their differences.
On his blog, King wrote that CNN had agreed to his request to wrap up the show in the autumn "giving me more time for my wife and I to get to the kids' little league games".
He said he would "still be a part of the CNN family" and planned to host special programmes on major national and international events.
"With this chapter closing I'm looking forward to the future and what my next chapter will bring, but for now it's time to hang up my nightly suspenders (braces)," he concluded.
Over the course of his career, King has interviewed every US president since Gerald Ford. His most recent interviewees include Bill Gates and singer Lady Gaga.
However, his show has slipped behind those of rivals such as MSNBC's Rachel Maddow and Fox News's Sean Hannity in the ratings battle.
The news of King's decision to end his show comes only a week after New York Times media critic David Carr suggested CNN needed to find a worthy successor for him soon.
"As it is, Mr King has been left to dangle, battered by tabloid reports, sliding ratings and his own daily battle to anchor the show five days a week," he wrote.
"The more legendary the talent, the more delicate the endgame."
Earlier this month, there was speculation in the press that Britain's Got Talent judge Piers Morgan was in talks with CNN to replace King.
Morgan is known in the US as a panellist on America's Got Talent and hosts Life Stories in the UK, a talk show on which he has interviewed celebrities and politicians including former Prime Minister Gordon Brown.