AGRICULTURAL BANK OF CHINA BEGINS SHARE SALE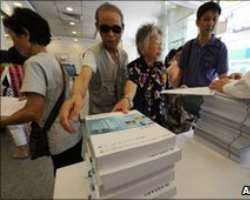 A share sale at Agricultural Bank of China – set to be the world's biggest initial public offering (IPO) – has begun in Hong Kong.
Retail investors have been queuing outside bank branches to pick up the AgBank prospectus. It will also float on the Shanghai market.
The bank, the last of China's so-called 'big four' to go public, aims to sell a 14% stake for $23bn (£15.3bn).
UK-based bank Standard Chartered has said it will invest $500m in the bank.
Qatar and Kuwait are already set to invest $3.6bn in the IPO.
Other likely investors include Singapore's sovereign wealth fund Temasek Holdings, Hong Kong businessman Li Ka Shing and Rabobank of the Netherlands.
The final share price for the IPO launch will be issued on 7 July.
Rising incomes
Some analysts say that AgBank is the weakest of China's largest banks, due to bad loans on its books and its focus on rural China.
"Most of its lending is to less affluent customers in the countryside," said the BBC's Chris Hogg in Shanghai.
"The loans are generally smaller than those made by banks serving urban areas. They're more costly to monitor so the returns are generally 20% to 30% lower than they would be on loans made to customers in cities."
But the bank's chairman insists the business will benefit as China's government seeks to raise rural incomes and boost economic growth in the less developed western and central areas of the country.
Agbank's prospectus said its bad debt ratio dropped from 4.32% in 2008 to 2.91% in 2009.
It reported a profit of 65bn yuan ($9.6bn; £6.4bn) in 2009, up from 51.5bn yuan in 2008. It predicts a 2010 profit of 82.9bn yuan.