JONATHAN BLAMES NIGERIA'S OUSTER ON EAGLES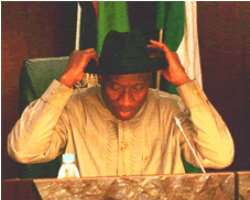 President, Goodluck Jonathan
Nigeria's President, Goodluck Jonathan, has laid the blame for the country's early exit from the 2010 World Cup squarely at the feet of the players. The Super Eagles crashed out in the first round of the first World Cup to be staged in Africa when they finished bottom of Group B with a point from three matches. They managed only a 2-2 draw with South Korea after losing their first two games, 1-0 to Argentina and 2-1 to Greece.
Sources at the Presidency said that President Jonathan told a delegation of officials led by sports minister, Ibrahim Bio, that despite his personal support for them, the players lacked the commitment to fly Nigeria's flag high at the World Cup in South Africa.
'Mr. President met with the sports minister and some other top-ranking officials at his office soon on their arrival from South Africa. He told them he was disappointed that despite all the support accorded the team, the players did not have the commitment to rise to the occasion,' revealed one of the sources.
At a special send-off dinner before their departure to England for a training stint ahead of the World Cup, President Jonathan promised the Eagles huge financial rewards if they won the World Cup.
He later visited the team at their Johannesburg hotel, where he promised a $ 1 million bonus on behalf of a top Nigerian businessman for them to win their opening group game against Argentina as the rest of Africa was looking at them to make history.
However, Nigeria's number one citizen, accompanied by several of the country's top dignitaries, could only watch from the stands at the Ellis Park Stadium in downtown Johannesburg as the Eagles fell 1-0.
Inquests into the country's World Cup failure have begun in earnest.
The National Sports Commission (NSC), headed by Ibrahim Bio, has invited the leadership of the Nigeria Football Federation (NFF) to a meeting in Abuja later Tuesday.
The country's National Assembly has also initiated a hearing into the Eagles poor showing at South Africa 2010.
The board of the NFF, which set a semi-final target for the Eagles in South Africa, will also meet on Tuesday to review the performance of the team at the World Cup.
Nigeria have appeared at four World Cups, reaching the Round of 16 in 1994 and 1998, while they failed to go past the first round in 2002 and 2010.