OBASANJO, BANKOLE IN SECRET TALKS, EX-PRESIDENT, SPEAKER KEEP MUM AT AIRPORT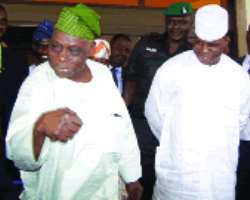 Former President Olusegun Obasanjo and the Speaker of the House of Representatives, Dimeji Bankole on Tuesday, held a secret meeting at the inner chamber of the presidential lounge at the Murtala Muhammed Airport, Lagos.
The Speaker was the first to arrive in the lounge at about 2.45pm aboard a presidential jet marked 5N-AGZ, while the former President came in about 10 minutes later in his usual three-vehicle convoy from his Ota, Ogun State residence.
On arrival, Obasanjo went into the expansive inner section of the lounge but their security personnel and personal assistants were shut out of the venue. Details of the meeting, which lasted for 30 minutes were not known, but the Speaker and former President were full of smiles when they came out.
On sighting them, journalists ran to them for possible debriefing on the outcome of the meeting.
Obasanjo, in his usual comic manner refused to speak but nodded his head and twisted his neck.
When asked how the meeting went, Obasanjo responded: 'It went very well.'
Other questions thrown at the former President was not responded to. At some point, he grabbed the tape recorder of one of the journalists and spoke inaudible words into it like someone quietly chanting incantation.
Tired of the former President's silence, journalists turned to the Speaker, who also kept mum on all the questions thrown at him.
The ex-president who was accompanied by one of his daughters, Kemi, Daily Sun gathered, was travelling overseas.
Bankole, on his part, was said to be in Lagos on a private visit.