WHY MOTOROLA SPLIT INTO TWO, INTRODUCES END TO END DIGITAL RADIO SOLUTION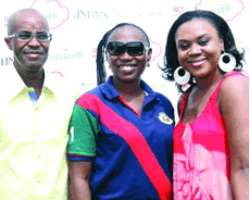 Marketing Director, Nutricima, Lampe Omoyele; Organiser of Gemsin the Rough and CEO of Lindy's Event, an Event's agency, Eme Aderinokun, popular actress, Stella Damasus at the Gems in the Rough event organized by Zain Nigeria for less-privileged children in Lagos recently.
Two years after Motorola closed its mobile phone business in Nigeria for reasons ranging from global phenomenon to other economic factors, it has disclosed that if it did not close shop, rather, it said it did not have enough time to refocus and reaccess the market.
According to Laurent Tribot,one of Motorola executives in Europe,Middle East and Africa(EMEA), at a time for every company, there are ups and downs and Motorola had such challenges. Globally, Motorola had to refocus on mobile phones, that was why it had to close shop.
He also disclosed during the launch of the end to end digital radio technology solution that Motorola has split into two for obvious reasons.He noted that part of the reasons was for refocusing and harnessing on available technology.
'We are talking about a wide range of products that has to with broadband. A two- way communication that has to do with digital or analogue, for small and big systems. We are here to train our partners so that they can pass the best knowledge to the end-user. We are not deviating from our core business, mobile phones.
We still have an activity with mobile phones, the company is going to split into two companies that would still be Motorola and there would be the professional side and the consumer business side which is going to be mobile devices or whatever they are going to call it. But they will be in charge of mobile phones. The split is happening worldwide now.
'At a time for every company, there are ups and downs and Motorola had such challenges. Globally, Motorola had to refocus on mobile phones, that is why we now have two companies and both of them will be called Motorola. We have to refocus and re-access the size of the market where mobile phone is concerned and way of doing things. It is not as If because we do not like the Nigerian market that was why we closed shops here'.
On the new product, Mike Fletcher, another executive said, the Enterprise Mobilty Solutions (EMS) Dimetra IP Siegfried Punzenberger, Motorola distributor, development and Training Manager Enterprise mobility solution channel and Growth EMEA added that Motorola is only providing the equipment for operators, government or enterprise to connect.
'We are actually building the network for connectivity. For instance, a Mototrbo radio or infrastructure can be used to capture effectively, to transport or transfer certain data which could be signals that come from water or liquid level. They can be used to control switching on light or opening gate. I also observed that power is a challenge in Nigeria but obviously that is the beauty of the two way radio system that has its own battery, which is independent of external power supply'.
He noted that telemetry is an old technology used 50 years ago to measure, the only thing not available at that time was devices that brought information across. 'People used to go out to wherever water level and make notes come back and do something with the information and now one can do that with a radio system and wireless. And pass this information across to a central radio system that does react to the information given. We are using telemetry applications already and it is already working/'
The introduction of TETRA (Terrestrial Trunked Radio) digital radios in Nigeria means that industries can benefit from seamless digital radio communications and faster response times. Motorola is a world leading supplier of TETRA digital radio technologies offering secure, reliable and efficient communications which are customized to meet the needs of mission critical users and a wide range of vertical markets including industries such as oil & gas, transport, utilities and logistics.
Nicolas Coussinoux, Regional Sales Manager, Enterprise Mobility Solutions, Motorola, Africa also informed that 'Nigeria is a priority for Motorola in the African market,'.
Said he: 'Motorola's world-leading expertise in Tetra digital radio technologies, along with our extensive portfolio of products, applications and services means that we can offer customers a complete communication solution for their business requirements.'
The Dimetra IP Small System range offers end-to-end Tetradigital radio solutions including infrastructure, terminals, applications and services based on the Tetra standard.
The Mototrbo solution provides a complete digital portfolio based on the Digital Mobile Radio (DMR) standard. The latest Mototrbo release R1.6 includes the unique 'transmitter interrupt' suite of features to help ensure that critical communications are received and acted upon immediately.
Mototrbo also supports a wide ecosystem of applications that is greatly increasing the efficiency, responsiveness and safety of customers across the world.
He also added that Motorola market share globally is big, precisely over 60 per cent especially the two way communication radio or walkie- talkie.While stressing that all Motorola products have one year warranty except for Mototrbo that come with two years warranty.
'The failure rate of our product is quite low. Not even one per cent in a year .We train our partners globally to fix issues, it is only when the radio is faulty that we replace it. We want to make sure that our customers are happy with our products and through that, they can recommend us to others.'