REPS TO PASS N639.8BN SUPPLEMENTARY BUDGET TODAY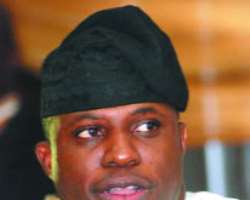 Dimeji Bankole
Speaker, House of Representatives, Dimeji Bankole, has said the House is doing everything it can to ensure that the N639.8 billion supplementary budget presented to it, by President Goodluck Jonathan, is passed at today's sitting.
Speaking to journalists at the presidential wing of Murtala Murhammed Airport, Lagos on Monday, Bankole stated that the oscillating price of crude oil in the international market would not in any way affect the supplementary budget sent to the House by the president.
He said the House of Representatives was working closely with the executive arm of government to ensure that all knots are properly tied before the supplementary budget it is passed.
'As far as the 2010 budget is concerned, we are working with the executive arm of government to make sure that tomorrow the House of Representatives will pass it so that they can move forward in building the nation.'
On the possible drop in the price of crude oil affecting the revenue of the Federal Government, Bankole said, the appropriation committee of the National Assembly and the Ministry of Finance would fashion out a way to go around the problem.
'I am sure it will, if there is a reduction, but those things will be worked out between the Appropriation Committee of the National Assembly and the Finance Ministry.'
President Goodluck Jonathan had earlier presented to the National Assembly a supplementary budget of N639.8 billion in June.
He asked the National Assembly to revisit the fiscal framework of the 2010 budget, preparatory to the reduction of the benchmark and revise downwards, the budget from N4.68 trillion.
The president reminded the lawmakers that he assented to the 2010 Appropriation Act with the understanding that he would bring a supplementary budget to take care of any omission.
He noted that the measure became imperative in view of the unanticipated items of expenditure, such as the Negotiated Civil Service wage increase, PHCN arrears of monetization and the 50th anniversary celebrations.
In the supplementary budget of N639.8 billion, the sum of N507.3 billion was earmarked as additional recurrent expenditure, N132.7 billion for contribution to development fund for capital expenditure.