False Reporting On Nigeria's Golden Jubilee Business Summit & Cultural Dinner In London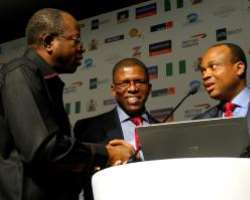 [Ukpakareports.com reporting LIVE from Grosvenor House, London]
The celebration of Nigeria's 50th independence appears to be taking off in full gear as Nigerians living in the Diaspora have joined the celebration today at Grosvenor House in Central London.
Making the 50th birthday, a private enterprise under the umbrella of Business in Africa Events [BIAE] harnessed the celebratory spirit into creating opportunity for business development in Nigeria. The Chief Executive Officer [CEO] of BIAE, Christian Dozie Udechukwu through the privately funded project put together the Business Summit & Cultural Gala Dinner 2010 that kicked on June 28 to end on June 29 of 2010 held at the prestigious Grosvenor House on Park Lane, London.
The event which opened yesterday, June 28, 2010 saw the presence of renowned dignitaries including, former Central Bank Governor, Charles Soludo, Ogun State Governor, Otunba Daniels, Minster of Works, Hon Sanusi Daggash, former chief of defence staff, Owoye Andrew Azazi, Managing Director, Lagos Business School, Pat Utomi, Director General, NAFDAC, Paul Orhii, Director General, Infrastructure Concession Regulation, Engr Mansur Ahmed, former Vice President of Nigeria, Alex Ekwueme, senior adviser to the president on power, Prof Bart Nnaji, Managing Director of UBS Group, Sarah Jane-Wagg, Chief Executive Officer, Kotoco Energy Limited, Balogun Kola Oyefeso, Chairman, Nigeria Economic Summit Group, Mazi Sam Ohuabunwa, Director of Evens, Nigeria in the Diaspora Organisation, Yemisi A. Sanusi, Assistant vice President, Bank of Tokyo, Cody Aduloju, Assistant President of Barclays Wealth, Fiona Sheerin, Executive Vice President [Shell], Ian G. Craig, Country Chairman of Shell Nigeria, Mutiu Sumonu, Government Relations Manager [Shell], Abubakar W. Ahmed, Director of Lagos Inland Revenue Service, Lanre Adeniyi, Chief Executive Officer of Access Bank UK, Jammie Simmonds, Head of Heavy Industires, African Finance Corporation, Dr. Ini Urua, Deputy High Commissioner, Nigeria High Commission UK, Amb. Dozie Nwanna, Vice President, T. Rowe Price International, Mark Lawrence, Chief Executive Officer, Zenith Bank UK, Andrew Martin, Managing Director, Nigerian Port Authority, Abdul Salami, Chief Whip, House of Reps, Hon. Emeka Ihedioha, Director General of Nigeria Economic Summit Group, Frank Nweke Jnr among others.
The business event which impressively ended its first day session in a bang also saw the droppings of misrepresented reportings in some select media outlets in Nigeria. This is as some media houses reported that the business summit was partly a recipient of the federally funded 50th anniversary bonanza budgeted for N10billion. Particularly tt was reported that the Federal Government of Nigeria had approved and paid out N6billion out of the entire purse of N10billion. To this end, civic society groups believing that the N10billion earmarked for the 50th anniversary to be exorbitant, began staging preparatory activities geared towards holding a protest against the business summit. And thus their activities gained a misdirected speed into the pages of Nigerian dailies.
A correspondent of ukpakareports.com who is staged at the venue of the event in London authoritatively gathered that the Business Summit was funded by private corporations, and that the Summit did not receive financial backing from the Federal Government.
The entities that provided funding included, Access Bank, British Airways, First Bank, Shell, Travelex, UBS, Zenith Bank Laurent – Perrier, AFR-INVEST, GTBank, EKO Atlantic, Capital Oil & Gas, FERMA, Federal Ministry of Transportation, A-Z Petroleum, among others.
|
Article source