South-South Governors Commend Jonathan Over Post Amnesty Programme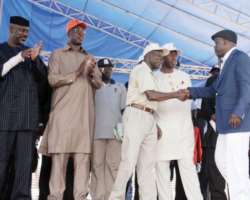 CALABAR, June 28, (THEWILL) - The South-South Governors Forum has commended the actions taken by President Goodluck Jonathan to involve the Governors in the consultative process of the management of the post amnesty programme in the region.

The commendation was contained in a communiqué signed and issued by the six Governors of the region at the end of their one-day meeting in Port Harcourt, adding that they felt encouraged by the renewed drive to address its challenges which remain a threat to the stability of the region.

The communiqué which was read by the Chairman of the South-South Governors Forum, Governor Liyel Imoke of Cross River, also reaffirmed the setting up of the Bayelsa, Rivers, Akwa Ibom, Cross River, Edo and Delta (BRACED) Commission and took measures for the formal establishment of its secretariat, explaining that the BRACED Commission will be charged with initiating the Economic Development Council which is private sector driven and aims to attract investment to the sub-region.

It noted the degradation of the environment as a result of oil spillage caused by the activities of the oil companies operating in the Niger Delta and called on the Federal Government to take urgent and appropriate measures to compel the oil companies to protect the environment as well as put in place stronger regulations that would guide oil exploration in the region to ensure the protection of the environment.

They called on the Federal Government to expedite action on the passage of the Petroleum Industry Bill which is geared towards communities where the oil resources are being exploited.

On the South-South Economic Summit, the forum agreed that the first edition which successfully held last year is an annual event and is to be held on November 18 and 19 November, 2010 in Asaba, Delta State and it will be an opportunity for the region to show case its economic potentials.

The Governors, however, expressed their sympathy with the family and indeed the nation over the death of late President Umaru Musa Yar'Adua and congratulated President Goodluck Ebele Jonathan on his assumption of office as President, Commander-in-Chief of the Armed Forces of the Federal Republic of Nigeria and commended him for the maturity with which he has steered the affairs of state so far.

They also expressed their full support for and solidarity with the President on his effort to ensure peace, stability and development in the country.