Borno Express New Gm Takes Over Affairs Of The Corporation , Pledges To Resuscitate The Mass Transit Corporation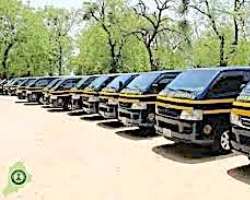 The newly appointed General Manager of Borno Express Corporation Alh Grema Zanna Kyari has assured that he will put all vehicles belonging to the corporation on road to ensure enhanced, affordable and safe transportation means to the public.
The General Manager disclosed this shortly after talking over the mantle of leadership of the corporation at the Head office of the corporation located along kirikasamma road in Maiduguri.
Grema kyari further observed that the present administration is known for its transparency and accountability: "all hands must be on deck to ensure that the corporation attained it's desired objective of safest transit."
The GM had while assuring the staff that he will carry everyone along, solicited for support and cooperation from all and sundry .
While handing over the affairs of the corporation to the new GM, the Director, Administration, Malam Muhammad Mustafa who stood in for the former GM said the corporation was first established in 1972 with the name North East Line and renamed to Borno Express Corporation in 1988 with the sole responsibility of providing affordable transportation services to the public.
Mustafa further disclosed that currently 308 staff were on it's pay roll with 35 vehicles out of which 27 are functional vehicles with 15 bus stops within MMC and Jere and 3 stand by generators among other things.
He urged the new GM to carry everyone along while assuring that the entire staff will give the new GM maximum support and cooperation in the discharge of his duties.
Also speaking, the Commercial Manager, Babagana Ali kime called on the staff to cooperate with the new GM and also give him useful advice on how to move the corporation forward.
Speaking shortly to pressmen after the handing over, the GM, Alh Grema Zanna kyari solicited for maximum support and cooperation from all and sundry and pledged that he will ensure prompt payment of staff salaries and other entitlements.