Nigeria At 50 London Summit A Disgrace - NLC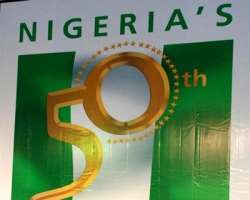 PHOTO: NIGERIA'S 50TH INDEPENDENCE ANNIVERSARY LOGO.

ABUJA, JUNE 28, (THEWILL) - The Nigeria Labour Congress (NLC) has condemned the apparent lack of nationalism on the part of the country's political leadership by choosing to hold a two-day conference on Nigeria's 50th Independence anniversary holding in London from today.

The organised labour said while it had earlier condemned the over N10 billion budget for the celebration, it was convinced that the London Summit planned by the federal government is more irrational and totally unnecessary given the huge state resources that would be used to host it.

According to media reports, about 18 state governors and over a dozen ministers as well as officials from key agencies of government will be attending the summit.

NLC President, Abdulwaheed Omar, in a signed statement made available to THEWILL said the implication is that huge resources at both the state and federal level would be wasted on travel expenses for this project that obviously has no relevance to a realistic transformation of our economy.

"Perhaps other than to display our linkage to our colonial heritage, we believe that it is highly illogical for our leaders to take a ceremony of our golden jubilee independence anniversary to the capital of the country that forcefully imposed itself on us for well over a century of exploitation and oppression".

"While we may not know the reasons why government decided to hold such an important forum in a foreign land, we would wish that our leadership provides answers to these compelling rational questions. Is it that we lack a befitting capital or venue to host such a conference? Is the two-day event sponsored by the United Kingdom on the condition that it must hold in London? Are travel expenses and logistics of the event part of the N10 billion anniversary jamboree? Are issues expected to be discussed at the conference, such as power, infrastructure, corruption, health, education and agriculture so exclusively sacrosanct that they could not be debated here in Nigeria? These and many more urgently beg for answers", the statement said.

Labour restated its earlier opposition to the whole idea of celebrating in a prodigal manner the country's 50 years of independence and urged President Goodluck Jonathan to instead use this moment to concretely deepen Nigeria's democracy by discouraging acts of frivolity that this London Summit represents, adding that it is clearly a meaningless summit at the expense of dearly needed resources that should instead be used to fund people-centred projects and policies.