Lockdown And Nigeria's Unusual Crimes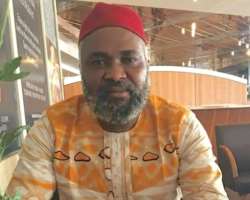 The arrival of the CORONAVIRUS PANDEMIC IN NIGERIA around early March this year changed the dynamics of social crimes in Nigeria.
The health emergency gave rise to series of Lockdowns and restrictions of Human and vehicular movements.
But this season of uncertainty has come with the certainty of the occurrences of some odd and unnatural crimes that have witnessed a phenomenal spike. Sadly, the law enforcement agencies that ought to confront these social maladies are themselves substantial part of the crises. There is also the urgency of the now to reflect on the failings of the judiciary to rise to the challenges of the times to be in the vanguard of slamming stiffer penalties to these offenders. This can not be achieved without the necessary amendments of the legal and legislative frameworks to make it tough for would be offenders to be motivated to commit these sorts of crimes that are both criminal and unnatural. To make any sort of progress will entail a collective efforts on the part of the judiciary, the legislative and executive arms of government to think out of the box on how to confront these crimes against humanity.
One of those sub-sets of social crime is the rise in the number of cases of violent sexual attacks of biological fathers targeting their biological daughter's to an extent that the gender department of the Anambra state ministry of Woman affairs addressed the media in Awka and raised alarm on the sudden rise in this sort of crime. In the period of the lockdown there have been like 80 or more cases of these kinds of sexual attacks against younger persons and daughters by their fathers in Anambra state.
Then there has been a rise in violent sexual attacks of girls by men including the killing of a first year student of the Ambrose All Federal University in Edo State inside a Church premises at the Redeem Church in Benin city.
Then there has been a spike also in the number of police and military extra legal killings of Nigerians during the lockdown to an extent that the international community expressed strong condemnation of the Nigerian security forces concerning how this period of Covid-19 has been used to kill citizens who ordinarily should be protected from the rampaging devastation of the CORONAVIRUS PANDEMIC.
This is how the British Broadcasting corporation reported the above stated fact.
It reports that security forces enforcing the lockdown in parts of Nigeria have killed more people than coronavirus itself, a local rights group says.
Evidence of the killings comes from members of the public who rang their hotline or sent in videos, the National Human Rights Commission (NHRC) adds.
It says law enforcers have killed 18 people in Nigeria since lockdowns began on 30 March.
As at the time of compiling this report, Coronavirus had killed just 12 people, according to health ministry data.
At least 1,476 people were killed by state actors in the country over the past year, says the Council on Foreign Relations.
In its report about Nigeria's coronavirus lockdown period, the NHRC, a government agency, said it had found "8 separate incidents of extrajudicial killings leading to 18 deaths".
In total the group said it received more than 100 complaints across 24 of Nigeria's 36 states - including Lagos, Ogun and Abuja. Those three parts of the country this week had their two-week lock down extended.
Other areas have set a variety of restrictions, which have seen the police and army called out to enforce them.
Ishaq Khalid, of BBC News, Abuja said that: "As the lockdowns and other security issues continue, many Nigerians have little confidence that the attitude of the security forces will improve soon despite assurances by the authorities."
Aside, these police killers of citizens, there have been a sudden rise in the cases of sexual attacks against younger persons by adults. Speaking about Child's Rape cases there was this incident of a Father who allegedly rapes 15-year-old daughter in Abuja as Published on May 29, 2020.
It was said that the Police Command in the Federal Capital Territory (FCT) had arrested a 43-year-old man for allegedly defiling his 15-year-old daughter in Lugbe area of Abuja.
The Commissioner of Police in FCT, Mr Bala Ciroma, at a media briefing in Abuja, said the suspect was mentally stable and confessed to having carnal knowledge of his daughter on several occasions.
Then came another one that says that a Father Absconds With Children After Raping Them Multiple Times as
Published on 20th March 2020 By.
Oddly, the story states that One Oluwaseun Olomo, a resident of Egbeda, a densely populated neighbourhood in Lagos, had disappeared with his two children (a male and a female) after defiling them on multiple occasions.
Olomo had also successfully won over the police to aid his immoral act and obtain a favourable court order.
The children had revealed to a doctor how their father forcefully had sex with them with bruises on their private parts showing forceful penetration.
The matter was charged to court after it was transferred to the Gender Unit of the Lagos State Police Command but Olomo was described as a responsible man and granted the custody of the children. Then comes the case of the 70-year-old man who Rapes Eight-year-old Girl In Niger, and gave her N80 bribe to Stay Silent as Published on July 6, 2020.
This is the story as narrated at the police detention center by a reporter: A 70-year-old man, Mohammed Sani Umar (Tela), has raped an eight-year-old girl in Chanchaga area of Minna, Niger State.
Umar raped the girl twice before giving her N80 not to tell anybody about the incident.
The mother of the girl noticed her abnormal behaviour, which made her question the girl before she revealed that the septuagenarian defiled her. Then from Akwa Ibom comes the pathetic story of jow a father raped his 13 year old daughter 'on as Published on April 25, 2020.
The story is that a 13-year-old-girl in Akwa Ibom on narrated how her father, Godwin Jeremiah, sexually assaulted her repeatedly in their home.
The victim spoke to journalists after the arrest of Mr Jeremiah, a bricklayer from Ikot Udota, by police officers from the Divisional Headquarters in Eket Local Government Area.
The victim accused her father of forcefully having sex with her mainly in the night, and almost on a daily basis.
She said that her father's friend, one Mr Michael, from Ikot Udoma village, also attempted to rape her, but he ran away when she raised alarm. Lagos is not left behind even as a 50 years old Father, 'rapes' daughter for eight years in Lagos as
Published on May 17, 2020.
The police in Lagos arrested a 50-year-old man Tyndale Ede for alleged defilement of his 19-year-old daughter since she was 11.
Eden was arrested on May 9 following a complaint by his wife (names withheld) at Ikotun Police Division.
It was alleged that the suspect's incestuous behaviour was discovered by the woman at their Kajola Street, Ikotun residence after she noticed their daughter was being disrespectful towards her father.
She was said to have probed the teenager to know what was wrong and she opened up to her mum that Ede has been raping her since she was 11.
The victim was said to have told her mum he often threatened violence on her each time she resisted him, adding that he warned to deal with her if she ever told anyone about it.
Then a Father rapes his 3-yr-old daughter while his wife was in the labor room and blames his actions on evil spirits as
Published on 25th June 2020.
It was reported that the Commissioner For Women And Children Affairs, Lady Ndidi Mezue reacted to the incident. She said it is an abominable act, condemnable in all ramifications. She added that the child is still in pains.
Lady Ndidi said that on receiving the information from the whistleblower, they rushed to the residence of the rapist at 33 area near Onitsha and apprehended him together with the help of the men of Department of State Services. She said he will face the full weight of the law. Then a 12 year old was gang raped in Lagos as published on June 6, 2020.
The 12-year-old girl in Ajah, Lagos was raped by four masked men in her home on Thursday.
Family sources and the police confirmed the crime to reporters..
According to a family member who did not want his name published because of stigmatisation, the pupil was not only raped but also brutalised. Then a man who allegedly rapes seven-month-old daughter, was remanded as Published on June 5, 2020.
The story is that a chief Magistrates' Court sitting in Makurdi, the Benue State capital, on ordered that a 38-year-old businessman, Simon Emeka for allegedly raping his seven-month-old daughter, Prosper Emeka, be remanded in Makurdi Correctional Centre. Around June 15th, an Akwa Ibom man was nabbed for raping 16-year-old daughter..
The Akwa Ibom State Police Command arrested one Ime Sunday for allegedly raping his 16-year-old daughter.
Also arrested for similar offences were a pastor at a deliverance centre in Uyo, Inifon Inyang, and 10 others.
This was disclosed at a media briefing at
the command's headquarters in Ikot Akpan-Abia by the Commissioner of Police, Imohimi Edgal. Then comes the story of an Ogun man jailed for two years for raping eight-year-old girl as Published on June 12, 2020.
An Ogun State Magistrates' Court sitting in Abeokuta has sentenced a 20-year-old man, Musa Anifowose, to two years' imprisonment for raping an eight-year-old girl.
The convict had pleaded guilty to the one count of sexual abuse. From Osuncomes the report that a Man, 75, rapes 15-year-old Osun street hawker.
This daredevil rapist of 75-year-old, Jacob Ayinla, has been arrested by the Osun State Police Command for allegedly raping a girl, 15, in Osogbo..
Ayinla reportedly committed the offence in the Odi-Olowo area of Osogbo, when he allegedly lured the street hawker into his room under the pretext of wanting to buy herbal mixture from her. The crime that set tongues wagging was that of a retired Army captain 73, who rapes 4 yr old niece in Calabar as published on JUNE 3, 2020.
The 73-year-old retired army Cpt, Bassey Ekanem has raped his 4-year-old niece in Calabar, the Cross River state capital.
The incident Vanguard gathered occurred at 12 Edim Ibangaha Street, Big Qua Town, Calabar.
The media also learned that the suspect claimed he was under the influence of alcohol and couldn't understand why he committed the act.
Findings By the media showed that the victim (names withheld) was violated by the Uncle whom she referred to as grandpa.
Then Edo govt arrests 70-yr-old man for allegedly raping 14-yr-old girl as published on MARCH 14, 2020.
The Edo State Government has ordered the arrest of a 70-year-old man, who allegedly defiled and rape a 14-year-old girl.
The Commissioner for Social Development and Gender Issues, Hon. (Mrs.) Maria Edeko, who disclosed this in a chat with journalists in Benin City.
Then come the cases of crime of Ritual killings starting with the story that suspected ritualists kills 78-yr-old woman in Ekiti, remove vital organs as published JUNE 3, 2020.
The Police Command in Ekiti on Wednesday confirmed the gruesome killing of a 78-year-old grandmother and widow by persons suspected to be ritualists, in Ikere Ekiti, Ikere Local Government.
The Command's Public Relations Officer, (PPRO), ASP Sunday Abutu, who confirmed the incident, described it as "unfortunate and mysterious". Then comes the confession thus: "We kill children, sell their body parts ― Suspect confesses
Published ON JULY 3, 2020.
A 29-year-old suspect, Lekan Raheem, has confessed that his gang had killed some children and sold their body parts for ritual purposes.
He made the confession after his arrest by the Nigeria Immigration Service (NIS), Oyo State Command.
Before being handed over to the police for further investigation, he said, he and other members of the gang usually enticed innocent children with biscuits and kidnapped them.
Then comes the other story that a Stepdad, mum killed boy for ritual in Ogun says the Police as Published on April 26, 2020.
The police in Ogun State have arrested a woman, Adetutu Apalaya, for allegedly conniving with her husband, Lajuwon Ogunleye, a herbalist, and his friend, Fatai Sefiu, to murder her seven-year-old boy, Pelumi Apalaya.
Without showing any sign of sickness, Pelumi who lived with the couple in Abegi area of Ogun State, had reportedly slumped and died on the spot.
His sudden death was said to have aroused suspicion of some neighbours who trailed the couple and Sefiu to a bush where the corpse of the boy was reportedly buried mysteriously.
From Rivers State was the Ngor Okpala born ritualist paraded for burying his victims inside the septic tank in the well fortified house he lives in a part of Rivers State just as the Police brought out over 5 corpses from the septic tank.
The solution to these unusual crimes is to make sure that the justice system works optimally. As it is now, the wheel of justice is slow. The police needs to also get the best of professional trainings to be able to carry out clinical and forensic investigations which they are not in the best frame of mind to do. The police is seriously lacking in professionalism. The laws against sexual attacks against younger persons need to be consolidated and strengthened to make it a crime punishable by chemical castration the rape of younger children.
*Emmanuel Onwubiko is the Head of the Human Rights Writers Association of Nigeria [email protected] ; www.emmanuelonwubikocom; www.thenigerianinsidernews.com ; [email protected]
Disclaimer:

"The views/contents expressed in this article are the sole responsibility of the author(s) and do not necessarily reflect those of The Nigerian Voice. The Nigerian Voice will not be responsible or liable for any inaccurate or incorrect statements contained in this article."