Gov Buni Awards N7.5 Billion Contract For Construction of 1,800 Housing Units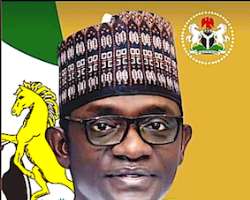 The Yobe State government has commenced the construction of 1,800 housing units across the 17 Local Government Areas of the state to improve the living conditions of the people at rural areas and ease accommodation problems.
The state commissioner of housing , Alhaji Bukar Dauda disclosed that the state Government awarded a N7.5 billion contract for the construction of the 1, 800 housing units of three-bedrooms urban, two-bedrooms urban and two bedroom-rural projects across the local governments.
He added that the project was the first phase of the 3600 houses billed for construction across the State by Governor Buni's administration.
According to him, the construction of the housing units has already commenced in Damaturu, Gulani, Bursari, Geidam, Yunusari, Fika, Nangere, Fune, Nguru and Yusufari Local Government Areas of the state .
Some residents of Damaturu said the commencement of the construction projects was a clear indication of the commitment of the present administration towards meeting the housing needs of the people.
While others described the housing projects as people oriented projects, it is intended to alleviate accommodation problems of the people especially the civil servants across the state. They commended the governor for awarding the contract.