Ikorodu Is Worthy Of The Vacant Senatorial Seat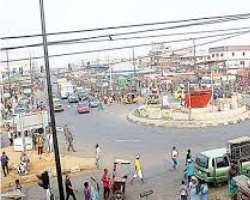 Enough of our sacrifices, enough of poli-tricking and political marginalisation, let Ikorodu Division occupy the vacant Lagos East Senatorial Seat. As our panegyrics suggest, we are the descendant of 'Oga' - which literally means Boss/Leader. Which connote that leadership is in our gene and we make a credible one at that.
It's been over a decade since the Ikorodu Division has been craving for the Lagos State gubernatorial seat which had since been welcomed with poli-tricks sacrifices. A number of groups have since time immemorial campaigned for Ikorodu Division for Governor. In 2006, the Conference of Leaders of Ikorodu Division (COLID) which was ably led then by Chief Babatunde Olusola Benson (SAN) raised the issue of Ikorodu Division for Governor. Sadly, till date we have only heared about it we haven't been considered. This can't continue, coming generations will tag this generation a failure if it failed this time again.
The demise of Senator Osinowo, the past senator representing Lagos East Senatorial District at the Upper Chamber, has left a vacuum in the house and thus made many stakeholders commence politicking tactics and making consultations on who will fill the vacuum? It should be noted that on the demise of the Senator, the Independent National Electoral Commission is saddled with the responsibility to perform their last rite to him by effecting a bye-election that would see to his succession. WHO WILL BE THE SUCCESSOR?
I am not a seer to give an accurate answer to the question. I'd rather join with my voice the plethora of influential stakeholders in the bidding and politicking process of bringing a worthy successor. However, I have not written this time to sell anyone but to identify some powerful reasons my Division, Ikorodu should provide Peperito's successor.
The last time Ikorodu provided a senator was in 1999-2003, when we had the vibrant prince from Igbogbo, Prince Adeseye Ogunlewe, through the Alliance for Democracy (AD) political party. Alas, ever since we have not had the position zoned back to our division. The division was close to having a candidate at the last National Assembly elections through Hon. Abiru. But the mandate was short-lived as he had to step down.
Another point to note is the continuous sacrifices the division has made to the winning party with her large population. Our loyalty should never again go unrecognized.
Also, while Ikorodu Division is still in the process of being considered fit for governorship stool. Let's prove our credibility once again as a Senator.
We have got Vibrant movers and changers in Ikorodu who are fit to represent Ikorodu Division and the whole of Lagos East District at the National Assembly. The time is now. Tomorrow is not feasible. We are not sacrificial lamb.
It is my wish that our stakeholders would help us make this a reality. When this is done we would be glad to say that Ikorodu Division is not left out. We are still in the political game.
Waliu Olalekan Adeyeri is a proud Ikorodu Ambassador, a graduate of B.A. English from the University of Ilorin, presently serving the Nation in Gusau, Zamfara State. Email: [email protected] Tel: 08111236196
Disclaimer:

"The views/contents expressed in this article are the sole responsibility of the author(s) and do not necessarily reflect those of The Nigerian Voice. The Nigerian Voice will not be responsible or liable for any inaccurate or incorrect statements contained in this article."