Babagana Zulum: A Professor Governor & Government by Wandering About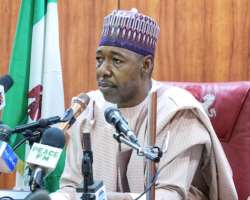 I did not know much about Babagana Zulum, the Professor-Governor of Borno state but on 7/2/20, he earned my attention and admiration. One day and one event are enough for me to 'know' him. After all, as our people would ask, how many lions should somebody kill before he becomes an Ogbu-Agu( lion-killer)? The day started like every other normal day and the governor started it in a manner that appears to have become in 'his character'. He had paid an unscheduled, cock-crow visit to Shehu Sanda Kyarimi 2 Primary School to undertake an on-the-spot infrastructure needs assessment and was positively shocked to meet a Mrs Mazi, a L12 class-room teacher at school around 6.30 am. She hails from Abia State and has been teaching for 31 years .
The governor gave her a cash reward of N100,000.00 (about her 3 months salary) and directed the State Universal Basic Education Board to review her records after which she was promoted to an Assistant Headmistress, saying "Her gender, tribe, religion or state of origin does not surprise me but her passion, enthusiasm, dedication, commitment and above all patriotism do surprise me a lot." As a government, we are mightily proud of her!" Some appreciative Bornoaits also gifted her a sum of N1m. I noted his government by wandering about(GBWA) style, his prioritization of commitment against primordial concerns and the lady's immediate and long-term benefit for dedicated services, and moved on to other matters. Before then, I also noted that the lady should change her name to Ndidi-ka (Patience is the ultimate)
On 22/5/20, Governor Zulum struck again. He paid an unscheduled visit to 6 LGAs (Chibok, Bama, Gwoza, Damboa, Konduga and Askira-Uba) and was negatively shocked that the chairmen, secretaries and other top officials were nowhere to be seen. They were on duty by their ABSENCE! That was two weeks after the ease of Lockdown. The Professor-Governor had heard that executives of these LGAs were "notorious for abandoning their local government to operate in Maiduguri only to return there for few days when allocations are received, or when they know the governor is heading there".
Even the 'Gwoza LGA new secretariat which he commissioned a few months ago was locked' and all this inspite of the fact that 'We have been pleading with them for quite some time to operate from these local government areas so that citizens will feel the impact of governance at the grassroots but from all indication, many are not listening'. Again, government by wandering about. He heard and went on to confirm. It also shows how our LGAs operate, across the land.
On 3/6/20, he paid another unscheduled visit to Ngala General Hospital around 11am and all the resident medical doctors, nurses, pharmacists, lab technicians and clerks were out of stock. The only people around were staff of a humanitarian organization, fhi360, who had come to complement the efforts of the state staff! So, the shepherds abandoned the sheep to some hired hands, rather than the other way round! ( John 10:12). And on 9/6/20, Governors presence and akshon was felt at the Indimi Estate, meant to accommodate displaced persons. As usual in Nigeria, those who needed the houses could not get it and those who did not need it, but had LONG legs, had possession of the houses. Governor Bulum immediately cancelled the allocations to the ghost landlords and reallocated it instantly to those who were on the ground, who needed it.
Prof ZULUM has optimized the GBWA strategy; he has shown disdain for criminal absenteeism, which characterizes our civil service, more so in the LGAs, he has rewarded dedication without minding gender or 'state of origin, he has preached integrity by his actions and does not believe in the circus-shows that characterize official visits, where roads are patched, offices painted and fake efforts made overnight to impress the visiting governor by genuflecting officials . I had told people (in behavioural communication) that the best way to enforce punctuality is by action, not by circulars. I am sure that by now, every Bornoait will be punctual at work , because they don't know when the ubiquitous governor would come calling. And like Ayede, another Professor Governor, this one read a SERIOUSE course: Soil & Water Engineering! Professor Bulum; Na you biko, for taking the act of governance serious and for making us PROUD! But, who did you leave at the Department Soil & Water Engineering at UNIMAID?
Ik Muo writes from PhD. Dept of Business Administration, OOU, Ago-Iwoye. 08033026625
Disclaimer:

"The views/contents expressed in this article are the sole responsibility of the author(s) and do not necessarily reflect those of The Nigerian Voice. The Nigerian Voice will not be responsible or liable for any inaccurate or incorrect statements contained in this article."