Nard Strike: Minister Of Health There Is A Limit To Politicking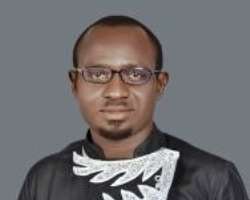 To me anybody can be in a position of authority in Nigeria. It is not an exaggeration if I say that a child (foetus) in the womb is qualified to be in any leadership position in this country. The reason is that being a leader in this part of the globe does not need any fresh idea, just "copy" what your predecessors did in a similar situation and "paste" it.There is basically nothing new to add in leadership as the people have been taught intuitively to live as if they had none. Though very laughable and childish, yet the threat of sacking resident doctors demanding their right is not new.We are used to it as it is one of the factors that are considered before embarking on any strike.
Did Jonathan's then Minister of Health, Prof Onyebuchi Chukwu, not sack resident doctors in 2014? Did that last for a month? The minister knows that he has no legal right to sack resident doctors because he was not the one that employed them. I challenge him to show me any appointment letter he personally signed to employ any resident doctor in Nigeria. Our people say that it is only a mad man that does things the same way and expects a different result. Common knowledge should have taught our so-called leaders that shouting at a crying child without attending to the child's needs, does not solve the problem because peace is not the absence of war but the presence of justice.
Dear Minister of Health, few weeks before Nigeria recorded the first Covid-19 case,you boasted severally that Nigeria was ready to fully handle Covid-19 cases. I can vividly remember that while that news was trending on social media, somebody comically wrote:
Dear Covid-19, don't listen to our health minister. He was just joking.
We all laughed it off but that post paradoxically conveyed its message. At times, I wonder if our leaders use same dictionary we use? Is there any other meaning to the word ready that I do not know?How could the Minister of Health claim that the country was ready to handle Covid-19 cases when many states did not have designated isolation centres as at the time of making such claim? When I read the story of a 70-year woman that died in Enugu isolation centre a day before her Covid-19 result came out negative,my heart trembled and I felt ashamed of being a Nigerian.The daughter of the late elderly woman came on social media to lambast my colleagues at Enugu State University of Science and Technology Teaching Hospital ,ESUTH, Parklane over what she described as neglect, inhuman environment and treatment meted to her late mother.
What was the next reaction to her claims? Police barricaded the newly improvised isolation centre at Colliery Hospital,Enugu preventing people from having access to the centre possibly to prevent people from filming the poor state of the isolation centre to corroborate the story of the bereaved. Using dilapidated and abandoned buildings only inhabited by snakes and other reptiles, was it part of the claim of being ready to manage Covid-19 pandemic in Nigeria?
As at the time you repeatedly boasted that we were ready for handling the pandemic, the whole of Southeast and South-South had one testing centre at Irrua, Edo State. Other regions were even worse off except probably the Southwest and North Central because of Lagos and Abuja respectively. Releasing the results of patients many days after their deaths,was it part of the claim of being ready for the pandemic? It is a shame to us as a nation and the so-called Giant of Africa, that the result of that old woman came out a day after her death and it proved negative when in saner climes the results could have been produced less than 24 hours. What is the distance from the remotest part of Southeast or South-South to Irrua in Edo state? As a minister ready to handle Covid-19 pandemic, was there any arrangement on how samples collected from suspected patients would be sent to testing centres immediately? If yes, is it by land, by air or the use of drones? The newly established Abakaliki and Port Harcourt testing centres came along many weeks after the covid-19 cases were recorded in Nigeria.
Now, Nigerian Association of Resident Doctors (NARD) is asking for part of what should have constituted your claim of "being ready to handle the Covid-19 pandemic in a country" and all you can do is to threaten to sack them when you should have been the one tendering your resignation letter for deceiving the people that your ministry was ready to handle the pandemic in Nigeria when we were far from your claim? Do you want to create another Dr Stella Adadevoh who saved Nigeria from Ebola but today she is forgotten and her family abandoned? If she was probably the breadwinner for her family as her rank as a doctor could automatically made her, the government's posture would probably be that her dependants might as well go to hell since after all it was just her own contribution to nation building.
Dear Minister,I want you to lead by example by consulting in one of the tertiary hospitals in Abuja without wearing PPE, who knows some gullible colleagues may be "convinced" to join you and become sacrificial lambs for the pandemic.
The Genesis of the NARD Strike
First, NARD is demanding that adequate PPE should be provided to Nigerian doctors and other health workers in order to fight the pandemic. My people say that it is only a tree that will "hear" of its planned death(cutting) and will still stand.We have seen and heard of the number of deaths recorded in countries with most developed healthcare system let alone Nigeria that ranked 187th by the World Health Organisation (WHO) among 195 member states on health issues. It seems that being sacked while alive is better for doctors than for them to intentionally embark on a suicide mission of treating suspected Covid-19 patients without adequate PPE. I don't think there is a motivational speech that will make a goat accept a duel with a lion or that will make a sane person stand on the path of a moving train . A paragraph of the new Hippocratic oath clearly states as follows:
I WILL ATTEND TO my own health, well-being, and abilities in order to provide care of the highest standard.
Hence, asking for PPE for resident doctors and other health workers is not enough reason for the minister of health to threaten to sack resident doctors.
Second, the government has repeatedly claimed that it has paid the insurance companies for the Life Insurance cover of the health workers. Regrettably, this claim cannot be confirmed as none of the families(beneficiaries) of the frontline medical doctors who died in the course of handling the pandemic has either been contacted by the so-called Insurance firms nor any money paid to them. Is it not preposterous for the Ministry of Health or that of Labour to claim that it does not have the list of affected doctors? Is asking for evidence of the agreed Life Insurance cover for the frontline health workers enough reason for the minister to threaten to sack resident doctors?
Third, NARD is demanding implementation of the agreed hazard allowance for the health workers involved in the fight against the pandemic. I know that Nigerian press will never tell Nigerians that before now that the hazard allowance of Nigerian doctors was five thousand naira (N5000). Yes, you read it right! It is because of N5000 that many of my colleagues have contracted dreaded diseases while some have died in the course of handling their patients. On the issue of Hazard allowance for the frontline health workers,NARD is only asking that the government should show evidence of such payment as there is no way the government will keep on deceiving doctors that the money has been released when none of NARD members has received any dime to that effect. Is asking for evidence of money government claimed to have released which resident doctors have not received,enough reason for the health minister to threaten to sack the resident doctors?
Fourth, on the issue of skipping arrears there is no way some health workers will be paid and resident doctors are not paid as even S.42 of the Constitution of the Federal Republic 1999 (as amended) abhors discrimination in its entirety. What is the flimsy excuse that federal ministries of Health and Labour are giving for not paying the resident doctors their skipping arrears? They claim that they are waiting for a ruling of an appeal still pending in the court. Nigerians can see that what is sauce for the goose is no longer sauce for the gander when it is the turn of the resident doctors. Is asking why resident doctors should be discriminated against in the payment of skipping arrears enough reason for the health minister to threaten to sack them?
Fifth,on the issue of differences in the salaries of doctors working with the federal and state governments, to me there is nothing to negotiate here since there is no disease called federal or state disease. Both doctors working with the federal and state governments face the same patients and occupational risks. They face same punitive measures if the management of the patient goes awry.So, why should there be a dichotomy in their salaries? If there is no discrepancy in the amount they pay in renewing their annual practising licences, why should there be a discrepancy in the amounts they receive as salaries and wages? Nigeria is the only country in the world where patriotism is interpreted as citizens forfeiting their rights while the leaders live in opulence and affluence because in saner climes, such a dichotomy in salaries and wages is unheard of.
If the government claims that this is not the right time for resident doctors to embark on a nationwide strike,then the same government should realise that this is not the right time to be insincere with the resident doctors. I challenge the ministers of health and labour to produce facts that will refute my claims above and I want to strongly remind them that there is no best time for the health workers to embark on any strike hence government should be sincere with the health workers.
On the Issue of UPTH Pulling Out of the National Strike
The press will always like to report controversial matters because that increases the number of sales, in the case of printed media, or online traffic/visitors in the case of non-printed media . Almost all media houses have portrayed the Association of Resident Doctors (ARD), University of Port Harcourt Teaching Hospital(UPTH) chapter in good light without knowing the politics going on there.It may interest the members of the press to know that for more than a year, there has been a leadership crisis in ARD-UPTH chapter where there are two factions. One faction is led by Dr Samuel Ameh while the other faction is led by Dr Solomon Amadi. From the body language of the UPTH management, it is clear that it is solidly behind Dr Samuel Ameh-led faction as the management was eager to issue query to Dr Solomon Amadi while leaving Dr Samuel Ameh.
This is simple power politics; Dr Solomon Amadi is recognized by NARD so his faction will obey NARD nationwide strike. On the other hand, Dr Samuel Ameh's faction is not recognised by NARD but recognised by the UPTH management so his faction will dance to the tune of the management because if his faction is rejected by both NARD and UPTH management then his faction will immediately cease to exist as it will go into political extinction. It is somewhat embarrassing, unfair and biased when the members of the press carry headlines like:
§ Resident doctors in Port Harcourt boycott strike due to Covid-19
§ Covid-19:Resident doctors in Port Harcourt pull out of strike
§ Covid-19:Resident doctors in UPTH pull out of national strike
§ Resident doctors in Rivers shun national strike
§ Strike:we cannot abandon our patients say Rivers doctors
§ ARD-UPTH pulls out of NARD strike
However, such headlines are misleading as they don't reflect what is on ground. It is expected that the press should specify the particular faction that is not involved in the strike in the case of UPTH such as adding "Dr Samuel Ameh –led faction of ARD-UPTH" to their headlines. Did the press bother to listen to the Dr Solomon Amadi-led faction or have they been bought over by Dr Samuel Ameh led faction and the UPTH management? Is such reportage not against the principles of balanced and investigative journalism?
As a senior registrar who needs the help of the management for his permanent employment after his residency training, it is obvious that Dr Samuel Ameh is likely going to sell our collective birth-right (NARD demands) over a plate of porridge (his personal recognition and cordial relationship with the UPTH management).Will Dr Ameh tell me that his members have received all that NARD is demanding? Recently, the NMA Rivers issued a press release through the chairperson of the association in the state where all the demands of NARD were reiterated. If Dr Samuel Ameh faction has enough PPE, he should please donate some to NMA Rivers state as the recent response by the Commissioner of Health in the state to the press release by NMA Rivers over PPE and other demands was not funny at all.
Political observers will tell you that there is a cold war between the leadership of NMA in Rivers state and the state government as the state governor recently accused the NMA chairperson of venturing into politics and at same time reminding her that she is a civil servant and anybody knows that it is against civil service rule to criticise the government while still working as a civil servant. Dr Samuel Ameh can end this cold war by simply donating the surpluses his faction has to NMA Rivers after all the holy book says blessed are the peace makers for they shall be called children of God. I am sure he will not do that because he needs to make peace with his rival, Dr Solomon Amadi, that is recognised by the national body (NARD).
One thing is clear, Dr Samuel Ameh and the members of his executive would go down in history as a team that sabotaged the struggle of their colleagues.I am sure that they might have weighed the NARD punitive measures for members that sabotage their struggles such as not eligible to contest any NARD posts et cetera, Dr Samuel Ameh and his executive might have believed that as they would soon exit the training that there was no need going for NARD elective posts but the truth remains that members of NARD today will still be members of MDCAN (Medical and Dental Consultants Association of Nigeria) and NMA at large, tomorrow.
I challenge the Dr Samuel Ameh-led faction of the ARD-UPTH chapter to produce evidence where his faction sat and agreed with the ARD-UPTH congress as contained in the ARD-UPTH constitution before playing to the gallery to announce that ARD-UPTH chapter was pulling out of the national strike. Dr Ameh-led faction of ARD-UPTH hatred and disobedience to NARD but still answers ARD is what Ayi Kwei Armah called Chidodo bird in his novel , The Beautiful Ones Are Not Yet Born. The said Chidodo bird hates excreta but feeds on the maggots that feed on the excreta. What is ARD without NARD? Dr Ameh should have allowed the management of UPTH coin a new name for his faction instead of answering ARD.
Also, I advise the members of the press to launch an investigative journalism to my claims above. I need not to teach them what to do in a situation like this, however I can make suggestions to them, they can interview different doctors in UPTH to corroborate my claims .If the doctors in the centre refuse to grant such interviews due to expected intimidation and victimization by the management, then the journalists can undercover as patients or patients' relatives in the centre to know if all activities are fully going on in the centre . The members of the press should ensure their investigations and reportage in the ARD-UPTH leadership crisis should be fair and balanced.
Dr Paul John Port Harcourt, member Medinews ( NMA national quarterly magazine) 2016-2018, [email protected] ,08083658038
UPTH Resident doctors decline to join nationwide strike, et cetera.

Disclaimer:

"The views/contents expressed in this article are the sole responsibility of the author(s) and do not necessarily reflect those of The Nigerian Voice. The Nigerian Voice will not be responsible or liable for any inaccurate or incorrect statements contained in this article."