My Father Not A Womaniser –Sola Kosoko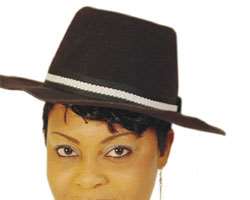 Adesola Kosoko is the beautiful daughter of popular actor and Chi Ambassador, Jide Kosoko, and holds a sociology degree from the Olabisi Onabanjo University (OOU), Ago-Iwoye, Ogun State.
The light-skinned and pretty actress affirmed that her incursion into the world of make believe stemmed from her father's insistence for her to get into the arts.
In a chat she said: "I started acting at a tender age when my father often showcased my talent by featuring me in his productions and from there I picked up interest. Though I love acting, I was thinking of coming into the industry after my university education. Then I felt my father is an actor, so why should I be an actor too? I'm a graduate of sociology from Olabisi Onabanjo University, Ago-Iwoye, Ogun State, after which I went full blast into acting, which has really paid off for me. I first appeared on the stage when my father staged Olorire in 2002 and that was where it all started."
Speaking further on her father's influence on her acting career, the screen siren, who is fast rising in her career, maintained that though she is equally brilliant and talented, it is not overboard using her father's status to rise in the movie industry.
"Definitely, I'm an actress in the name of my father and it is also true that it is because my father is in the industry that I have gotten to this height in a very short time but it should be noted that beyond this, I am also good at what I do. If I was not good at it, I wouldn't be where I am today and wouldn't be loved by fans," Sola said.
Sola, the second daughter and third child of the famed actor, said she has no idea why her father decided to live a polygamous lifestyle. She explained that though she would have loved to live in a monogamous household, she still had fun living with her father.
In her words: "No one would like to live in a polygamous family. Everybody would like to grow up only with his or her father, mother and siblings. But, my dad is from a royal family, so being polygamous is allowed. I really don't know his reasons for marrying more than one wife and, of course, I cannot speak on his behalf. Nevertheless, I would say it has been well so far."
Continuing she said: "We haven't had any bad experience because we lived like one big family. We hear a lot of things happening in some polygamous homes, but it is unlike my own family. Of course, there will be quarrels at one time or the other, but it is unlike what you hear in some other polygamous homes. And we all have always lived together though I miss everything that one would miss in a mother. You see, I lost my mother when I was 13 years old, she actually died during childbirth.
"So, I am the third child from my mum because I have two elder ones, a male and a female. I am also the third from my father and I have younger siblings too. I would say I didn't really feel her absence so much because my father was around. My mother was the first wife and he married another wife."
Though engaged Sola declined giving information about her man, she who said she has a good relationship with her step mother and fellow actor, Henrietta Kosoko, stated that her father is not a lover of women as it is being bandied about.
"I don't want to talk about my man, I would only say you should wait till my wedding day and you will have all information you need about him. I have learnt a lot from my father. He is a plain, liberal, rational and considerate man. And I don't agree with the saying that he loves women because it is totally untrue because I know him well," she defended.
Contrary to the belief that the Jide Kosoko family are Muslims, Sola is a Christian and she said her father is also Christian.
"I am a Christian and my father is also a Christian, but we are from a Muslim background. One thing about my family is that we are not dogmatic about religion. I have always been a Christian and my father too is a Christian, but most people don't know. I have a Muslim name. His father was a Muslim, but his mother is a Christian. But he has been going to church since when he was a child," Sola revealed.