DEOLA SAGOE,ITUEN BASI AND BUNMI KOKO PREPARES FOR AFRICA FASHION WEEK 2010!!!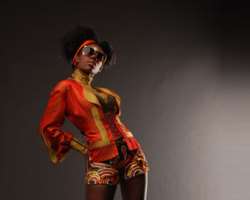 The Super Eagles of Nigeria (Lets forgive those those who call them super chickens) may not have had a superb performance at the on going FIFA World Cup in South Africa but we are proud that our fashion idols are also going there to prove point this month.

Deola Sagoe, a creative and widely acknowledged fashion icon would be doing us proud as the Africa Fashion Week kicks off on 30 June 2010 at Sandton Convention Centre,Johannesburg, South Africa.

Deola is fresh from the New York fashion week and all eyes would be on her when gets to showcasing her designs at on the runway in Sandton.
NFC gathered that Ituen Basi is also another Nigerian upscale designer that would be at the Africa Fashion Week 2010.She is known for her creative, timeless elegance with a contemporary twist designs.Ituen was at the 2009 edition.The third designer coming from Nigeria is Bunmi Koko.Though based in the UK, Bunmi combines a powerful collection of works that is a fusion of the Nigerian and scottish heritage that is rich in style.She would be attending the Fashion week for the first time.
Last year, Lanre Da Silva Ajayi of LDI, Tiffany Amber (owned by Folake Akindele Coker),Odion Mimoment (owned by Odio Oseni) and others dazzled the world with their Haute couture collection. In 2009, the Africa fashion week was a collaboration between Arise Magazine (Thisday Newspapers) and Africa Fashion International.