Nigeria's Youngest Political Appointee, Caleb Okechukwu Marks OneYear In Office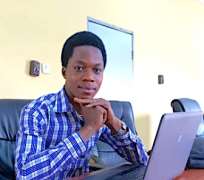 Caleb Okechukwu is the Executive Assistant on New Media and Special Duties to the Honourable Speaker of Anambra State House of Assembly, Hon. Uchenna Okafor. The appointment which was given to him on 15th June, 2019, made him the youngest political appointee in the Federal Republic of Nigeria.
In this interview with award-winnig Nigerian Journalist Izunna Okafor, the vibrant and humble Okechukwu delightedly shares his experience on the journey so far, as he marks one year in this prestigious office.
He also has some words of advice for the youths and the populace.
Hear him:
Izunna Okafor: In June last year, you were made an aide to the Honourable Speaker, Anambra State House of Assembly, an appointment which crowned you the youngest political appointee in the country. Could you please share your experience with the world on the journey so far?
Caleb Okechukwu: Being a young man whose desire is to make a difference, the experience is worth the sacrifice, commitment and consistency. The opportunity to serve as Anambra Speaker's aide on New Media and Special Duties, has earned me a lot of goodwill, commendations and recommendations. It has also brought me closer to legislative activities of the State Assembly, ranging from preparing of bills, motions, and public petitions and its consideration. I have toured every nook and cranny of the South East in cause of discharging my duty which unarguably has exposed me to men of goodwill who mean well for the citizenry. The experience is numerous but for the want of time, it has been an absolute great experience I so much value.
Izunna Okafor: What do you feel like, working in that capacity?
Caleb Okechukwu: Wow! I feel like this is just the beginning. Working in this capacity has in several occasions reminded me of one of my 2016 quotes —"If there are no opportunities, are there no talents too?" ~ Caleb Okechukwu.
Doing same thing in same way most likely results same output, and as such, one must distinguish himself through positivity of thoughts and actions, adequate life planning and a 'Plan-B' navigation to be able to make a difference with a resound mindset. I feel fulfilled a little bit having continued to set commendable moral standards for the youths who chose me as their role model and to my thousands of followers on various social media platforms where my primary responsibility is focused. These followers whose love for me is unparalleled in a view of my unique and outstanding approach of addressing issues pertaining Anambra State Legislature and the state government's policies through the social media with graphical representation as a creative writer and a graphic designer.
Izunna Okafor: Are there any feats you have recorded in the last one year, occupying this position?
Caleb Okechukwu: They are numerous. You know, in this part of the world, young people see politics as a game of winner takes it all. They view every political move as evil against them with the wrong impression that politicians are their enemies. Come to the social media where we project the truth to the world, a lot of people, most especially the youths, on daily basis endulge in blaming, condemning, criticize politicians. Yet, these youths unleash thousands of untold propaganda against all policy of every ruling government irrespective of party affiliation, not knowing the other side of the story. When I resumed work last year in June 15, 2019, I made it a point of duty to change that narrative through my conduct on my social media handles. And I make bold to say that it has been a win for us as many people have been made to know the truth. I acted as a mediator using my new media platforms between Ndị Anambra and the state legislature. Outcome of the legislations, effective representation/engagements and oversight activities of the 7th Assembly of Anambra State are published in my various new media platforms as I wrote all the reports. This gave me an edge to unveil the untold story of bills and motions moved to the world. I would say I have positively impacted lives, changed the wrong narratives with unadulterated approach in making a difference. These, I would say, stand as part of my feats in my one year in office.
Izunna Okafor: Have there been any challenges?
Caleb Okechukwu: Challenges you mean? Ha! Absence of challenges depicts nothing has happened. There have been many challenges. One of them is societal glorification instead of pity on us the junior political appointees. For instance, one can imagine how an Executive Assistant can survive these pressures of being seen by the society as a wealthy person. Again, I have (on daily basis) been exposed to insults and mockery on the social media for not having a have a car yet. They mostly illustrate how I frequently fly Keke-Napep in Awka streets exposing my life to unknown forces. While, I do not blame them because they believe that working with politicians is same as living in the abroad where they assume money flows through the roof.
The approach of using derogatory words on government officials poses a great challenge to me because it will require my extra techniques to make such person see reason to constructively criticize if need be, instead of indulging in name calling. Ordinarily, I wouldn't see these as challenges but you know, I am a human with emotions. Smiles...
Izunna Okafor: With this appointment serving as a launching pad, where would you want to see yourself in the next five to ten years?
Caleb Okechukwu: I can visualize how bright the future is, based on the solid foundation my present office has enabled me to build. I have a strong belief that I would see myself flourish in politics. 'Easy does it all and better'.
Izunna Okafor: Any future political ambition/prospect?
Caleb Okechukwu: As time ticks, so does ambition. Political ambition is inevitable, but the skill to nurse it right makes one different. When the time comes, best choice of the masses will emerge. The future is brighter!
Izunna Okafor: Youths and political participation; youths and self-reliance: what is your advice to the Nigerian youths, speaking experientially?
Caleb Okechukwu: Like I always say, "If there are no job opportunities, are there no talents too?" The world needs unique talents, things in different perspectives. The tragedy is that most people see themselves as not privileged to attain success in life, but such perception is wrong. They believe that those born with silver spoon are superior to them, not knowing that there are numerous opportunities at their doorstep, which ordinarily, those first class citizens can not access.
Take for instance, a young graduate who is endowed with beautiful voice, and sings very well, but she sings only in the bathroom; yet she has been hunting job for years. If this person ventures into voice training, she will definitely become a champion in national and international competitions. But because she wants things the normal way, she would begin to feel inferior, and probably begin to lose sense of humor and then depressed because she couldn't get a job.
Experientially, the story above is similar to mine, but the difference is that I discovered myself and what the society lacked. I started as a graphic designer, then developed to a private computer graphic tutor, I didn't have an office but I made my institute in such a way that I go to my student's house, each of my student's house is my classroom where I visit and teach each of them in different locations across Awka. So from there, I transited to designing and mounting of large format advertisement boards. Sometimes I would spend over 13 hours in tens of feet above ground level with my friends who aided me in carrying out those duties.
I designed for many politicians in the South East, and that gave me an edge to add more value to what I do. I then ventured into creative political writing accompanied with professional graphic designing. The full story will be told some other time. My advice to Nigerian youths is that they should go beyond the courses they studied and do other creative activities that can raise them to stardom instead of looking for the best way to prepare a Curriculum Vitae. They should take home the fact that aside the richly prepared Curriculum Vitae they have, their values should also be a living Curriculum Vitae to beckon with!
Izunna Okafor: Any acknowledgement?
Caleb Okechukwu: I want to most specifically thank Chief Dr. Willie M. Obiano (Akpokuedike), the Executive Governor of Anambra State who approved my appointment. I am also eternally grateful to Rt. Hon. Uche Victor Okafor, the Speaker, Anambra State House of Assembly, who found me worthy of this office.
Worthy of note is the fact that Rt. Hon. Okafor is one of the youngest Speakers in Nigeria and Africa. Armed with academic excellence and a plethora of experience in legislative activities and social conduct; he has groomed me to a political asset ahead of the future. I thank my parents Mr and Mrs Ikwunne Timothy Okechukwu for the parental upbringing and sacrifices.
Izunna Okafor: Any other thing you would want to share/say?
Caleb Okechukwu: I say a very big thank you to Ndị Anambra, my friends and followers on the social media who have been supportive in one way or another throughout my one year in office. I pledge to continue making a difference. It is sad and worrisome that COVID-19 has done a lot of harm to the world now. I would advise everyone to obey the directives of the federal and state governments in order to stop the spread of the virus. Stay safe, healthy and happy. We shall surely overcome this trying time someday. God bless!