DCP Abba Kyari Honoured By House of Representatives (Photos)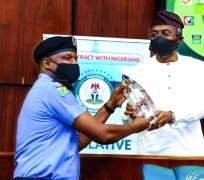 The House of Representatives on Thursday, 11th June 2020, received and honoured DCP ABBA Kyari, Head of the Intelligence Response Team (IRT) of the Nigerian Police. Mr Kyari was honoured by the House for his many successful investigations of heinous crimes across Nigeria.
Mr. ABBA Kyari was invited into the chamber by the leader of the House, Rep. Alhassan Ado Doguwa. The honour was bestowed on Kyari by the House on Thursday to encourage his onslought against the reign of the underworld in the country.
The Speaker, Rt. Hon. Femi Gbajabiamila, presented the award to the gallant cop who had cracked several difficult cases.
Others who joined Gbajabiamila in presenting the award to Kyari were Deputy Speaker, House of Representatives, Rep. Ahmed Idris Wase; and House Leader, Rep. Alhassan Ado-Doguwa.
Ramatu Kyari, his wife wife accompanied her husband to receive the award for outstanding performance in crime detection in the country.
In commending Mr ABBA Kyari, the Speaker of the House, Rep Femi Gbajabiamila said "Through the work of Mr Kyari and his team, victims of crime across the country have received some measure of justice. He is an honour to the Police force and to the country he serves".
The elated DCP Abba Kyari thanked the House of Representative members for appreciating his contribution in crime fighting. He thanked the IGP, his family, his colleagues and Nigerians for support in his job.