Persons with Albinism Gear Up  for International Albinism Awareness Day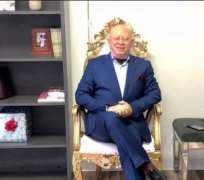 The persons with albinism in Osun state are in high spirit gearing up for this year edition of International Albinism Awareness Day celebration billed for June 13, 2020.
The State Coordinator of The Albino Foundation, Mr Lukman Nafiu told The Nigerian Voice that the event would be celebrated with the theme: "MADE TO SHINE AGAINST ALL ODDS".
In a press statement made available to The Nigerian Voice in Osogbo, Osun State capital, signed by the Founder/CEO of The Albino Foundation Jake Epelle, he urged members of the public to celebrate with The Albino Foundation and Albinism community globally to make the event a glorious one.
According to the statement, "With deep concern on the widespread discrimination, stigmatization, dehumanization and brutal killings of persons with albinism across the World and the need for more public awareness on the needs and challenges of persons with albinism globally, especially in Africa, the United Nations General Assembly at its Sixty-ninth (69th) Session, Third Committee, Agenda item 68 (b) proclaimed, with effect from 2015, 13 June as International Albinism Awareness Day.
"The proclamation invites all Member States, organizations of United Nations system and other international and regional organizations, as well as civil society, including non-governmental organizations and individuals, to observe International Albinism Awareness Day in an appropriate manner.
"It invites Member States to provide the United Nations High Commissioner for Human Rights with information on the initiatives taken to promote and protect the human rights of persons with albinism, including efforts to increase awareness of human rights situation of persons with albinism and understanding of albinism globally. It also invites the human rights treaty bodies and special procedures of the Human Rights Council to continue to give attention, within their respective mandates, to the situation of persons with albinism globally.
"Following the declaration, The Albino Foundation and its Partners are organising a three (3) day programme of events commencing from 11th to 13th of June, 2020, which include: Media Engagement; Virtual Workshop and Launch of the "Ivory Aid Ball" for skin cancer trust fund and Experience sharing.
"Due to the recent COVID-19 pandemic ravaging the world, the event will be both physical and virtual; it will involve foreign diplomats, government's representatives, CSOs, disability community, persons with albinism and their families and members of the public and the media. Leaders of Persons with albinism and albinism community in all the states of the federation will participate in all the activities from their various states and are expected to engage the media to mark the event in their respective states."