Nigerians react to arrest of Ray Hushpuppi suspected 'Yahoo Yahoo Big Boy' (Photos)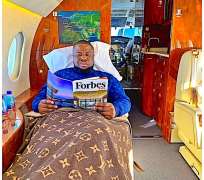 Nigerians on Twitter and other social media platforms are currently reacting to the unconfirmed arrest of Dubai-based flamboyant Nigerian, Ray Hushpuppi, a suspected 'Yahoo Yahoo Big boy' who claims to be a real estate developer.
Reports say Hushpuppi and his colleagues were arrested in Dubai by International Police (Interpol) and Federal Bureau of Investigation (FBI) over alleged fraud.
They were allegedly involved in fraud and money laundering of over $100million which was supposed to be given to Native Americans during the Coronavirus Pandemic.
P.M.News has contacted Interpol UAE for confirmation of the arrest. It is still awaiting a response.
The young socialite and Instagram big boy had late last year changed his Instagram profile from the famous 'the Billionaire Gucci master' to 'real estate developer' , following the arrest of fellow Instagram and Dubai based big boy, Mompha, by officials of the Economic and Financial Crime Commission.
However, Nigerians have started reacting to the news with some Nigerians saying Hushpuppi's arrest will not come as a surprise with the way he was spending money lavishly and showing off, with source of income questionable.
Here are some of the reactions;
Aproko [email protected]_doctor
I'm happy that Hushpuppi has been caught.
Alot of young people wanted his levels OF questionable wealth, at least now they know there are consequences

Did you think his money was legit?
If you do, I have one cream to sell to you that enlarges your pinis with one single rub

11.4K
6:56 AM - Jun 10, 2020
Twitter Ads info and privacy

[email protected]_adebayo5
I only hope Interpol will catch up with Mompha the same way they already did with Hushpuppi, this is the kind of energy we need.
I've always told my friends, nothing illegal ever lasts, it might seem legit at first but it always ends up bad if you resist the urge to stop.
1,671
8:26 AM - Jun 10, 2020
Twitter Ads info and privacy
657 people are talking about this

Duke of Ibadan @AsiwajuLerry

"God of Mompha" "God of Hushpuppi"

Hope you guys are seeing God of Interpol and God of EFCC today??

1,273
11:10 AM - Jun 10, 2020
Twitter Ads info and privacy

200 people are talking about this

I am a virgin and [email protected]
Don't jump into conclusion about hushpuppi's arrest.. Shebi he's into real estate?

Maybe Interpol wants to show him the room to his cell estate

2,470
7:15 AM - Jun 10, 2020
Twitter Ads info and privacy

456 people are talking about this

𝙄𝙣𝙘𝙤𝙢𝙥𝙡𝙚𝙩𝙚 𝘼𝙨𝙩𝙧𝙤𝙣𝙖𝙪𝙩 @AimThaMachine_

Hushpuppi & Mr Woodbery amongst others have reportedly been arrested by Interpol & FBI in Dubai. People are distancing themselves even on IG. FF are reducing since last night.

If you ever thought his money was legit, then Glory Osei will continue to sell Slim Tea to you.

1,018
8:38 AM - Jun 10, 2020
Twitter Ads info and privacy

403 people are talking about this

HOe [email protected]
So Interpol arrested Hushpuppi in Dubai for fraud but MTN is still giving us 6GB that lasts for just 2 days. EFCC weldone!

7,388
6:58 AM - Jun 10, 2020
Twitter Ads info and privacy

2,246 people are talking about this

I R U N N I A ™@Irunnia_
So I'm hearing Hushpuppi and some of his friends have been picked up by Interpol in Dubai.

Na to call Mompha for advice be the next step.
3,467
10:35 PM - Jun 9, 2020
Twitter Ads info and privacy

So I'm hearing Hushpuppi and some of his friends have been picked up by Interpol in Dubai.

Na to call Mompha for advice be the next step. pic.twitter.com/GVMmsltr9K — I R U N N I A ™ (@Irunnia_) June 9, 2020