Huriwa Asks President Buhari To Stop Genocide Against Christians And Mass Killings And Stop Diversionary Tactics :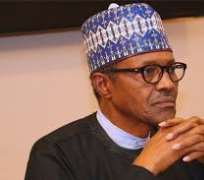 The Prominent Civil Rights Advocacy group-: HUMAN RIGHTS WRITERS ASSOCIATION OF NIGERIA (HURIWA) has tasked President Muhammadu Buhari to deal honestly and openly with the reality of the deliberate genocide and targeted attacks of Christians and farmers by a combination of armed Fulani herdsmen and Islamists of Boko haram terrorists genre which have skyrocketed since five years ago that he assumed Presidential powers.
The Rights organisation faulted the DIVERSIONARY tactics of the Presidency in which for five years it has chased imaginary enemies such as the unarmed Indigenous peoples of Biafra(IPOB) which it wrongly branded as a terrorists group but has failed to rein in or declare as terrorists the backers of the armed Fulani herdsmen such as the MIYETTI ALLAH CATTLE OWNERS ASSOCIATION which had actively through media statements backed the incessant attacks of communities in the mainly Christian dominated areas including the series of attacks in Benue, Plateau and Southern Kaduna State.
HURIWA stated that in 2018 around June when a mass killing of at least 86 people who were attending a funeral event in Plateau state took place, MIYETTI ALLAH OFFICIAL said it was an act of revenge following an earlier attack, the cattle rearers' group, Miyetti Allah.
HURIWA recalled that the Police that has serialy failed to protect Christians and farmers from the violenve even said 86 people were killed in several villages while six persons were injured in the attack that lasted between 1p.m. and 8p.m.
But residents said over 120 people were massacred in separate attacks at different locations.
HURIWA recalled that the state government imposed a dusk to dawn curfew in parts of the state, amid growing tensions between locals and migrant herdsmen community. Residents blame the attacks on Fulani herdsmen, a group represented by the Miyetti Allah.
But the chairman the north central chapter of Miyetti Allah Cattle Breeders Association of Nigeria (MACBAN), Danladi Ciroma, condemned the attacks.
Mr. Ciroma however said in a statement quoted by the media that the attacks were "retaliatory".
"These attacks are retaliatory. As much as I don't support the killing of human being, the truth must be told that those who carried out the attacks must be on revenge mission," he said.
"Fulani herdsmen have lost about 300 cows in the last few weeks - 94 cows were rustled by armed Berom youths in Fan village, another 36 cows were killed by Berom youths. In addition to that, 174 cattle were rustled."
HURIWA has therefore lamented that each time MIYETTI ALLAH CATTLE OWNERS ASSOCIATION makes inflammatory and incendiary statements threatening national security, the Presidency will always go back to its old bag of tricks to excavate her persistent but unintelligent accusations against imaginary enemies including IPOB even at the risk of denying the widespread anti Christian and anti -farmers violence by Boko haram terrorists and armed Fulani herdsmen.
HURIWA recalled that the presidency had recently accused the Indigenous People of Biafra (IPOB) of using false claims to deceive the United States and the United Kingdom just as the government official said using the cover of Christianity, the presidency said IPOB is calling for a US special envoy to be appointed to stop the "genocide" of Christians in Nigeria.
But in a statement on Sunday, Garba Shehu, spokesman of President Muhammadu Buhari, said the real purpose of IPOB is to cause disagreement between the Nigerian government and its US and UK/European allies.
HURIWA however dismissed this soft tissue of propaganda against the banned IPOB as a diversionary tactic by the current administration to take the attention of the global community away from the genocide and killings of Christians and farmers by the Boko haram terrorists and armed Fulani herdsmen going on all over the Country.
HURIWA asked the Presidency if it was located in the outer planet when the Islamic terror group of Boko Haram rejected N50m ransom and killed Christian Association of Nigerian chairman which was published extensively on 22 January 2020 by Guardian as well as all the other newspapers including the pro-regime Daily Trust newspaper.
It was reported that outrage trailed the murder of the Chairman of the Christian Association of Nigeria (CAN) in Michika Local Government Area of Adamawa State, Rev. Lawan Andimi after Boko Haram insurgents who kidnapped him rejected a N50 million ransom.
The state CAN chairman, Bishop Dami Mamza, who broke the sad news to some journalists in Yola, said that the insurgents had demanded two million euros (about N50 million) and still went ahead to kill the innocent cleric.
HURIWA also recalled that a report has it that armed Fulani herdsmen killed six in Kaduna village which was Published on August 16, 2016 by Punch Newspaper and other newspapers which reported that Suspected Fulani herdsmen that week killed six farmers at Godogodo in the Jema'a Local Government Area of Kaduna State.
It was gathered that the herdsmen told the villagers that their villages had become cattle grazing reserves and demanded that they vacate immediately.
But the chairman of the Kaduna State chapter of Miyetti Ahallah, Dr. Haruna Usman, said the Fulani herdsmen were on a revenge mission, noting that his men were not "crazy like that" to just kill anybody.
Another 40 Chrustians were killed as suspected Fulani herdsmen raid Christian community in Nigeria
Published October 20, 2016 By World Watch Monitor which stated that gunmen believed to be Fulani herdsmen have killed more than 40 people in Godogodo village, a Christian settlement in the Jama'a Local Government Area in Nigeria's northern state of Kaduna. The area, in the south of Kaduna State, has been attacked several times before.
The gunmen were said to have attacked a military checkpoint in the area before invading the village.
One survivor, Peter Atangi, told World Watch Monitor.
HURIWA recalled that the Fulani Herdsmen reportedly Killed 13 Christians, Wounded Three in Central Nigeria as
Published on January 10, 2020 by international Christian response just as the publication stated that armed Muslim Fulani herdsmen killed 13 Christians in Plateau state, Nigeria on Wednesday (Jan. 8), the same day four students were kidnapped from a Catholic seminary in Kaduna state.
About 20 herdsmen attacked the predominantly Christian village of Kulben, in Plateau state's Mangu County, at about 8 p.m., area residents told Morning Star News. The 13 dead were all members of the Church of Christ in Nations (COCIN), as were three people wounded in the assault, they said.
HURIWA listed other attacks amongs dozens others as follows: Suspected herdsmen kill 10 in Benue
Published March 21, 2019 By Punch
Suspected herdsmen and reported in details that on herdsmen killed 10 people in Tser Uoreleegeb in Ubabai council ward of Guma Local Government Area of Benue State.According to some people in the community, the gunmen shot indiscriminately after invading the village.
Suspected herdsmen killed two Catholic priests, 17 others as
Published on 25 April 2018 by Guardian and many others which reported that suspected herdsmen yesterday attacked Ayar Mbalom community in Gwer-East Local Government Area of Benue State, killing 19 persons, including two priests of the Catholic Diocese of Makurdi.
HURIWA said thar again, herdsmen killed 39, sack and raze three communities in Benue as Published APRIL 25, 2018 by Vanguard which disclosed that less than 48 hours after two Catholic Priests and 17 worshipers were killed by suspected herdsmen at Mbalon in Gwer East Local government area of Benue state, the marauders late Tuesday night and early Wednesday launched a coordinated attack on three communities in Guma local government area, killing no fewer than 39 persons, injuring scores and razing over 160 houses, huts and farmlands in the communities.
Among the communities and villages affected in the attack were Tse-Umenge, Mbadwen council ward, Mbakpase, Saghev council ward and Tse-Ali, Mbawa council ward.
HURIWA recalled that the herdsmen again Killed 11 in Southern Kaduna
Published ON APRIL 1, 2020 BY VANGUARD and reported that despite the curfew imposed on Kaduna state, the Southern Kaduna People's Union, SOKAPU, said gunmen had killed 11 people in 3 villages across the southern part of the state.
This was contained in a statement by the Public Relations Officer, Southern Kaduna Peoples Union (SOKAPU),
Mr. Luka Binniyat.
He said the attacks took place in Guruku ward, Kuduru village both in Chikun Local Government Area and Jagindi, in Jema'a Local LGA. There was Fresh attack in Jema'a, Kaduna reportedly claims 14 lives
PUBLISHED BY DAILY POST 17TH DEC 2018 and said 14 persons have been reported killed while 17 others were injured during an attack by gunmen Sunday night at Ungwan Paa-Gwandara village in Godogodo Chiefdom of Jema'a local government area of Kaduna State.
Mr Joshua Paul, a resident of the community told DAILYPOST that the gunmen unleashed the mayhem around 8pm when unidentified gunmen opened fire on innocent persons who were attending a wedding ceremony.
HURIWA quoted Arewa pastors as saying 30 Christians were killed in Jos attacks
Published May 28, 2019 By Punch and affirmed that a group, Arewa Christians and Indigenous Pastors Association, said about 30 Christians were killed and over 20 houses were burnt or destroyed by Muslim militia, some in military uniforms from around Tina junction, Cele bridge, Dutse Uku and Nasarawa areas, all bordering Muslim communities in Jos North."
HURIWA summed up few other cases as follows: "Suspected Fulani Herdsmen Invade Southern Kaduna Community, Hack Women, Children To Death as
Published JUN 03, 2020 BY SAHARA REPORTERS and said suspected Fulani herdsmen have invaded Tudun Doka community under Kajuru Local Government Area of Kaduna State, killing dozens of persons in the process, SaharaReporters can confirm.
Nine persons, mostly women and children, were hacked to death with machetes by the attackers. Over 30 Dead Bodies Decomposing In Bush After Kajuru Attacks, Southern Kaduna Residents Say
Published MAY 31, 2020 BY SAHARA REPORTERS and quoted that the President of Southern Kaduna Peoples Union, Jonathan Asake, has said that over 30 dead bodies of victims of the attacks by armed bandits in Kajuru under Southern Kaduna were decomposing in the bush.
He said security agents had not gone to the affected communities to retrieve the bodies, adding that over 60 people were still missing after the attacks.Two beheaded in fresh attack on Agatu by armed herdsmen PUBLISHED ON APRIL 13, 2020 BY VANGUARD and stated that Suspected armed herdsmen on Monday morning reportedly besieged Ologba community and beheaded two young men in a fresh attack on Agatu Local Government Area of Benue State.
The attackers were also reported to have taken away the heads of their victims to an unknown destination.
Scores killed as suspected herdsmen attack Agatu, Benue State
Published by daily post on 1st July 2019 and said no fewer than 20 people were in the early hours of Sunday killed by suspected herdsmen in Okokolo village, Agatu LGA of Benue State.
The attackers, DAILY POST gathered, also burnt down several houses and valuables.
It was also gathered that corpses of some persons were yet to be found.
Herdsmen strike again in Benue, killed 20 in Agatu attack on Feb 21, 2019 | The Nigerian Voice and goes thus:"Barely three days to the rescheduled general elections by the Independent National Electoral Commission (INEC), armed herdsmen suspected to be from Fulani extraction in the early hours of on Wednesday made an incursion into the Ebete Usha ward in Agatu local government area of Benue state leaving 17 local farmers and three Jukun hunters.Published by The Guardian 29 April 2016 /6:57 am it was reported that Fulani herdsmen attacked Ninji and Ropp villages in Plateau State and killed 27 persons. Also, the same group reportedly murdered about 70 Christians.
July 16, 2015: Fulani Herdsmen attack and killed farmers in Plateau.
September 2015: an attack by some Fulani herdsmen on the community of Onitsha Ukwuani in Ndokwa West local government area of Delta State left about three persons dead. A middle-aged woman was raped and subsequently killed by three Fulani herdsmen in Edo state.
October 2, 2015: Fulani Herdsmen raped, killed Ogun Residents and Farmers.
November 2015: Herdsmen invaded Ulaja and Ojeh communities in Dekina Local Government Area of Kogi State and killed about 22 men and women.
December 1, 2015: Fulani Herdsmen kill a man in Ofagbe community, Isoko North council area of Delta.
February 2016: Fulani herdsmen reportedly killed About 10 persons in Tom-Anyiin, Tom-Ataan, Mbaya and Tombu in the Buruku Local Government Area of the state.
February 8, 2016: 10 killed, Over 300 displaced in clash between herdsmen and farmers at Tom-Anyiin, Tom-Ataan in Buruku LGA.
February 11, 2016: Herdsmen attacked Abbi community in Uzo-Uwani LGA, Enugu killing two siblings and burnt houses, motorcycles.
February 29, 2016: Over 500 locals killed and 7000 displaced in an attack in Agatu LGA by fulani herdsmen.
March 9, 2016: 8 residents killed during herdsmen attacks in Ngorukgan, Tse Chia, Deghkia and Nhumbe, Logo LGA.
April 12, 2016: Fulani herdsmen attack Dori and Mesuma villages in Taraba, killing at least 15.
April 19, 2016: A member of about 18 suspected Herdsmen that invaded farms in Lagun village, Lagelu local council Oyo state, shot Mr. Jimmy Aido.
April 25, 2016: 48 killed, 60 injured by Fulani herdsmen in Ukpabi Nimbo community, Enugu state.
Twenty-one killed as fresh crisis erupts in Southern Kaduna Published by Guardian 21 February 2017
Afresh crisis has erupted in Southern Kaduna, despite the presence of security agents as armed Fulani herdsmen launched attacks on four communities killing no less than 21 people.
Many houses have also been reportedly set ablaze in the incident ,which began on Sunday and lasted till yesterday afternoon.
Pastor, 50 others die in fresh Adamawa attack Published By PUNCH September 15, 2018
Over fifty persons including a pastor belonging to the Lutheran Church of Christ in Nigeria were on Thursday night killed in attacks carried out by suspected Fulani herdsmen .
The attackers , who targeted the villages of Gon , Nzumosu , Bolki, Nyanga , Bukuto in the Numan Local Government Areas of the state , reportedly numbered over 200 .
12 feared killed in attacks on Benue, Kaduna communities Published by The Guardian 06 April 2018
No fewer than 10 persons have been feared killed and scores injured when suspected herdsmen on Wednesday night attacked some communities in Gwer-West Local Council of Benue State.
According to sources, the assailants invaded Mbapa, Mbapupuu, Mbachohon and Enger settlements in Agagbe District of the council area in a gorilla warfare fashion at about 11p.m., killing farmers and residents in their sleep.
Gunmen attack Kaduna village, kill 14, injure 21 Published By PUNCH December 18, 2018 and reported that gunmen suspected to be Fulani herdsmen on Sunday night attacked Ungwan Pah ll Gwandara in the Jema 'a Local Government Area of Kaduna State , killing 14 persons .
During the attack , 21 persons reportedly sustained varying degrees of injury from gunshots and machete cuts .
HURIWA recalled that the other armed gangs of Christian hating Herdsmen attacked 11 Plateau villages, killed 86, torch 50 houses Published By PUNCH June 25, 2018 and detailed that Plateau State was thrown into mourning with the killing of 86 persons in the attacks on about 11 communities in the Gashish District by suspected Fulani herdsmen .
The Police Command in Plateau State had earlier confirmed the attacks, saying it had only recovered 11 corpses from some of the villages . But residents had insisted that about 200 people were killed by the marauding herdsmen .Then a Pastor, 10-year-old, two others killed in Plateau raid
Published April 9, 2020 by Punch and reported that a thirty-four-year-old pastor, Mathew Tagwai, has been killed by gunmen in the Bassa Local Government Area of Plateau State.
7 Killed in Nigeria Jihadist Attack on Christmas Eve reported by Voice of America December 25, 2019 which reported that boko Haram jihadists have killed seven people on Christmas Eve in a raid on a Christian village near the town of Chibok in northeast Nigeria's Borno state, local militia and residents told AFP Wednesday. Islamic State militants beheaded 11 Christians in Nigeria on Christmas Day Published 27 DEC 2019 by Vatican News which detailed that Jihadists of the so-called Islamic State release a video purportedly showing the murder of 11 Christians in Nigeria's Borno State on Christmas Day.Boko Haram attacked another Borno village; burns school, church
December 30, 2019 By Premium Times
Mandaragirau, a village in Biu Local Government Area of Borno State, was attacked Sunday night by suspected Boko Haram insurgents.
The attackers also burnt down the community's church and a school. They also abducted a man on their way out.
killed in latest Plateau massacre
September 7, 2018 By World Watch Monitor Nigeria On 28 August, communities including a mining site at Wereh village (Ropp District), Abonong, Ziyat and Bek villages (Foron District), Nafan, Sagas, Rawuru, and Rambuh villages (Fan District), all in Barkin Ladi, came under heavy attack by Fulani militants.
Victims included a pastor and four members of his family. Rev. Adamu Wurim Gyang, 50, and his three children were set ablaze and burnt beyond recognition. His wife, Jummai, 45, was shot and left to die in a pool of blood. More than 14 were killed in that attack; 95 houses were burned down and 225 farm crops awaiting harvest were destroyed. A youth at the mining site also died.
Boko Haram kept one Dapchi girl who refused to deny her Christianity
Published Sat 24 March 2018 by The Guardian and indicated that the Schoolgirl Leah Sharibu would not renounce her faith despite friends begging her to pretend to accept Islam
The only Christian girl among the Dapchi schoolgirls kidnapped by Boko Haram last month could have been freed along with her schoolmates but refused to renounce her faith, according to her mother.
On October 2, Morning Star News reported, "Armed Fulani herdsmen accompanied by militants in Nigerian army uniforms killed 17 Christians in their homes in the heart of Jos, north-central Nigeria, on Thursday (September 27), including four children, area sources said."
20+ Nigerian Christians drown in river attempting to escape Fulani attackers
September 21, 2018 By World Watch Monitor
A pastor was one of at least 27 people who lost their lives following fresh attacks carried out by Fulani militants on five predominantly Christian communities in northeast Nigeria in recent days. Many of them drowned as they attempted to escape via the local river.
Various sources contacted by World Watch Monitor confirmed that the attacks took place between 13 to 16 September, and affected the villages of Gon, Bolki, Ndumusu, Yotti and Yanga, in Numan local government area (LGA), Adamaw
HURIWA is therefore challenging the current administration to tell the World how many of the killers have been arrested and prosecuted and punished for these heinous crimes against humanity.