Majority of Igbos Are Intelligent Traders - Ononuju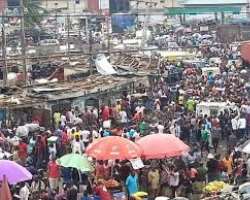 The Hon. Commissioner for Commerce and Industry, Hon Barrister Kingsley Ononuju (Ekwedashike), has stated that trading is a core area of competence and comparative advantage for Igbos, describing them as bold and intelligent traders, because trading calls for intelligent calculations, boldness, courage and risk taking, for which Igbos are renowned.
He stated this during the inauguration of the Imo State Amalgamated Markets and Traders Association ( ISAMATA) Caretaker Committee in the conference room of the Ministry recently.
Ononuju, thanked the traders for their cooperation with the government especially in the closure of all major markets in the state as a precautionary measure against the spread of COVID-19 and assured them that soon the markets will re-open even as government evaluates the situation on the ground for proper decision.
While commending the immediate past leadership of ISAMATA under the chairmanship of Chief Joe Odikanwa, for the great work they did, the Hon. Commissioner stressed that nature abhors vacuum, hence it is proper that ISAMATA must have leadership.
According to him, one of the major terms of reference for the caretaker committee is to conduct election for the next leadership of ISAMATA quickly and reminded the Committee members of the need for preparation.
Responding on behalf of the Caretaker Committee members, the Chairman, Sir Don Chris Okere, a dynamic and successful businessman with many accomplishments and representative of ISAMATA at the Imo State COVID-19 COMMITTEE, thanked the State Governor, His Excellency, Senator Hope Uzodinma, for appointing Hon. Barr Kingsley Ononuju, as the Commissioner for Commerce and Industry, whom he described as a man who is versed in administration and fast, a trader and square peg in square hole.
He also thanked the government for finding them worthy to serve as ISAMATA caretaker committee and promised that they will continue from where the outgoing executive stopped.
According to the Caretaker Committee Chairman, "Even though markets are closed, traders are still breathing."
He assured that the State Government will be proud of his team in the end as they are poised to contribute their quota to the development of the State.