The Sins Of Prof. Ben Odoh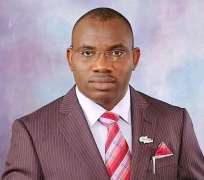 On 22nd May, 2020, the administration of Governor David Umahi in Ebonyi State set up a Commission of Inquiry to investigate the former Secretary to the State Government, SSG, Prof. Ben Ifeanyichukwu Odoh over the disbursement of a N2 Billion CBN loan facility meant to aid Ebonyi farmers in food production. Recall that the former Ebonyi SSG and professor of Geology, Prof Odoh, voluntarily resigned from Engr. Umahi's administration on 2nd April, 2018 on grounds of Umahi's personalization of the administration.
From all indications, Odoh's resignation took a big shine off Engr. Umahi's administration, bruised Umahi's ego and left him in utter shock. In reaction, the engineer-governor launched out against Odoh by making futile attempts to present the resignation as dismissal. When the governor failed in that angle, he mobilized "rented" people to put up demonstrations against Prof. Odoh's constitutional act of resignation. Ebonyi State Government-sponsored media hype on Odoh's resignation, rather than diminish the former SSG's popularity, skyrocketed the young academic's fame. Smart Prof. Odoh rode on the wave of his then invigorated popularity to take a shot at Umahi's job via the 2019 Ebonyi Gubernatorial Election but missed it by the whiskers. Since then, maverick Umahi marked the young academic as an enemy who must be silenced.
Prof. Odoh has equally continued to unsettle Engr. David Umahi by opting to become the voice of hapless ordinary Ebonyians whose basic rights and welfare have often been casualties of Umahi's penchants for projects designed to impress strangers and not for the benefit of the people. When Engr. Umahi embarked on an international cargo airport project for which he destroyed homes and farms of thousands of Ezza Ezekuna people, rendering them hungry and homeless, Professor Odoh condemned Umahi. Odoh berated his former boss for forcefully acquiring over 15,000 square meters of people's homes and farmlands without compensation even when there was a place marked for an airport project in Sharon. Umahi later vindicated Odoh when the governor confessed that he could not use more than 30% of the entire land he had acquired. So, Umahi hid under the subterfuge of the airport project to ruin the masses of Ebonyi State whom he took oath of office to protect! Victims of Umahi's forceful, uncompensated and superfluous land acquisition have continued to die in their numbers on daily basis in Ezza North. In the same vein, Odoh rose against Umahi's recent life-ban of two journalists - Chijioke Agwu of Sun Newspapers and Vincent Okutu of Vanguard Newspapers respectively - from government facilities in Ebonyi State. In an open letter to Governor David Umahi, the former SSG condemned Engr. David Umahi for the baseless ban which smacked of dictatorship, warning the governor to stop treating Ebonyi citizens as a conquered people. Odoh concluded by demanding that Umahi apologized to the journalists and Ebonyi people. After costly ego trips and a rain of global condemnations from the media, human rights groups, lawyers and pius groups, Umahi apologized to the journalists and Ebonyi people; thereby vindicating cerebral Prof. Odoh for the second time.
Before the dusts of Governor David Umahi's infamous life ban on the two Ebonyi journalists settled, Odoh made a publication entitled, Ebonyi Fact Sheet, where he cited the Debt Management Office data of Ebonyi State debt profile and Nigerian Bureau of Statistic's ranking of Umahi's Ebonyi State as the 3rd poorest state in the Nigerian federation! This revelation of Ebonyi State's weighty debt burden and fastastic but factual poverty level, to say the least, threw Engr. Umahi off-balance. This classical exposition of the vainglorious projects which Umahi has all along been celebrating pained the ego-driven Governor Umahi like a grip at the groin. Riding on Odoh's expository publication, a broad spectrum of informed Ebonyi citizens have been further compounding Umahi's headache by pointing out that Umahi has built structures that had neither names no uses. These structures included the glass house at the gate of EBSU permanent site which former President Obasanjo commissioned in 2017. Umahi told Ebonyians that this structure was an Ultra-modern bus terminal. The name later changed to a relaxation centre and, finally, EBSU clinic even when the EBSU Alumni Association has built a well-designed modern clinic metres away from the campus gate where Umahi's glass house situates. The two-storey building which Umahi built at the section of Abakaliki Township Stadium where small-scale businesses thrived was named a modern restaurant. Umahi changed it to Guest House and, after commissioning, he advertised it to let as office suites. The building is lying waste with no one sure of its name. Months after "re-modelling and modernizing" Abakaliki Township Stadium at great costs, Umahi is building another ultramodern stadium in the same Abakaliki. Recall that since May 2015 when Umahi took oath of office, Ebonyi State has no football club! Ebonyi traders also resent the fact that shops in Abakaliki International Market are lying waste because Governor Umahi fixed the rents at costs beyond the reach of an average Ebonyi business man.
In fact, Odoh's "sinful" publication was the last straw which forced Umahi to launch out for Odoh's head. And the only available ground was to institute a Commission of Inquiry to investigate the disbursement of the N2 Billion CBN loan facility for Ebonyi farmers. Odoh, while in office as SSG, served as co - chairman of Ebonyi State Executive Council Committee on the Agricultural loan. The committee was charged with the duty of providing strategic leadership to the committee; and not disbursing the funds. In reaction to Umahi's vengeful insinuations as he announced the idea of the Commission of Inquiry, vintage Prof. Odoh has bared all facts connected to the Agric loan funds. The wind of Odoh's reply has further deflated Umahi's saintly ego and rendered the governor's vengeful witch-hunt stillborn! Prof. Odoh neither benefited from nor disbused the Agricultural loan. The former Commissioner for Agriculture and Natural Resources who is the present Commissioner for Information and State Orientation, Barr. Uchenna Orji, was the actual officer who disbursed the loan to beneficiaries. All the beneficiaries were drawn from political office holders, state civil servants, local government workers and rural farmers using Umahi-approved templates. A total of N597, 950,850.00k and not N2 Billion was disbursed out of which, the sum of N114, 459, 958.13k was recovered and reported to Umahi-led Ebonyi State Executive Council as at January 2018 before Odoh's resignation. This self-same Governor Umahi presided over the EB-EXCO resolution which mandated the Commissioners for Local Government and Chieftaincy Matters, Barr Samuel Okoronkwo and his counterpart and the Ministry of Finance to ensure the recovery of the balance of the loan from debtors from February, 2018. Prof. Odoh voluntarily resigned his position on 2nd April, 2018 and recovery of the outstanding balance of the loan by those charged with it continued. The man who disbursed the loan, Barr. Uchenna Orji, and those recovering the post-2nd April, 2018 balance of the Agricultural loan as well as over 90% of the beneficiaries are all in Umahi's service.
To conclude this piece, one pertinent question needs to be answered: What are the sins of Prof. Ben Odoh for which Umahi desperately wants Odoh's head? The answer is that Odoh is a non-conformist who, in his innocuous patriotic engagements, dared to call the incorrigible emperor of Ebonyi State to order; and in the process, ruffled both the feathers and ego of the emperor. Now that Umahi's witch-hunting Commission of Inquiry is dead on arrival, Umahi should learn that unlike in medieval ages, the rule of law has shredded the toga of absolutism under which emperor's hid to trample on the rights of people they rule!