DSS detains Investigative journalist, Fejiro Oliver In Asaba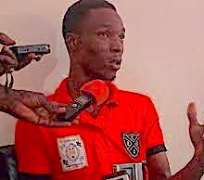 A prominent investigative journalist, Comrade Fejiro Oliver has been detained by men of the Department of State Security in Asaba.
It was gathered that the his detention followed an invitation by the Department yesterday requesting that he reports to their office today by 10.00 a.m.
It was gathered that Mr. Oliver honoured the invitation at exactly 10:07am this morning but has not been heard from since then.
A source confirmed that Comrade Fejiro Oliver had completed writing his statement and a entered into a meeting with the State Director of the DSS. His invitation to the State Security service may not be unconnected with an investigative report he published on alleged robbery inside Delta State Governor's House.
All efforts to reach him at press time has yielded no result as his phone numbers were switched off.
Recall that Secret Reporters co-published by Comrade Fejiro Oliver reported a story: "28th May 2020 will forever 'red letter day' in the heart of Delta State Governor, Mr Ifeanyi Okowa, as a moment he fell short of security glory, for right under his reign, the numerous security details spread all over the State Government House were broken down without resistance and trace by men of the underground world."
According to the report, "While Okowa slept that night and security men patrol the Dennis Osadebey house where destinies of men are decided, armed robbers which other sources claimed to be hired assassins were having a field day with the Governor's family under lock in the guest house section."
"According to an informant within the government house, the heavily armed men did not break through the wall of government house to gain entrance to place but were able to access the guest house section by breaking through the window where they had a field day."
"With this robbery right inside government house, some security experts who confided in us blamed it on the new Chief Security Officer(CSO), Mr Efeizomor, who is clannish by removing competence for tribalism, posting out security officials and bringing in mainly Delta North officers to work with him." The report read.
Although the report has generated reactions across board, it has neither been refuted nor reacted to by the state government.
At intervals, this reporter called the Public Relations Officer of the DSS, Mr. Peter Afunanya, but got no response. A text message sent to his phone number 0803*****49 was also not responded to at press time.