CIA SAYS AFGHAN WAR HARDER AND SLOWER THAT EXPECTED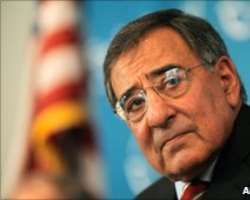 The director of the CIA has conceded that the war in Afghanistan has been "harder and slower" than expected.
Speaking on US television Leon Panetta said while progress had been made in Afghanistan, serious problems with governance, corruption and the Taliban insurgency remained.
Mr Panetta's comments come as Gen David Petraeus takes over command of multinational forces in Afghanistan, following the sacking of Gen Stanley McChrystal.
Gen McChrystal was dismissed last week over critical comments about senior US officials.
Speaking to ABC This Week programme Mr Panetta insisted that "the fundamental key is whether the Afghans accept responsibility" for taking over the battle against the insurgency once foreign troops pull out of the country.
Drones defended
Mr Panetta defended CIA drone strikes on senior al-Qaeda of Taleban leaders in the region, saying that claims they violate international law are "dead wrong".
"We have a duty, we have a responsibility, to defend this country so that al-Qaeda never conducts that kind of attack again," he said.
Mr Panetta said that al-Qaida was probably at its weakest since the 11 September 2001 attacks on the US.
He said 50 to 100 militants were operating inside Afghanistan and the rest hiding along Pakistan's mountainous western border region.
"We are engaged in the most aggressive operations in the history of the CIA in that part of the world, and the result is that we are disrupting their leadership," Panetta told ABC television.
He said the US had not had good intelligence on Osama Bin Laden's whereabouts for years.
Mr Panetta said that the al-Qaeda network was finding new ways to try to attack the United States. Of greatest concern, he said, was al-Qaida's reliance on operatives without previous records or those living in the US.