Council Boss joins Anti Kidnapping Police squad to arrest Cultists in Ebonyi.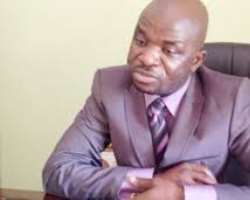 In his bid to contain the escalation of cult activities and violence in the area, the Chairman, Afikpo South local government area in Ebonyi state, Bar. Eni Uduma China, voluntarily joined Anti - Kidnapping squad of the Nigerian Police force which led to the arrest of the alleged killers of late Onu Chima Ukpai.
Bar. Eni who condemned in its entirety the cult activities in the area that led to the death of one Mr. Onu Ukpai Chima has also made Statements/Reports to appropriate authorities.
He lamented that after the departure of the said Anti - Kidnapping squad operatives a person generally said to be a cousin of the late Onu Ukpai Chima whose name was given simply as Ukaegbu allegedly went on a revenge mission in one of the hideouts of the cultists which was not known to the Squad as at the time of the raid.
He said that the said Ukegbu was alleged to have shot and killed one Raphael Chijioke suspected to be a member of the cult group that allegedly killed his own cousin on 3rd May 2020.
The Chairman expressed regrets that despite the efforts and presence of security operatives and himself between last night and early hours of this morning, such incident could still happen.
He called on Town Union Executives of the hotspots of these cult activities and hideouts to rise to the occasion and join the Law Enforcement Agencies in the search for the cultists who are said to have remained in Owutu.
He also urged members of the community to to be calm and volunteer useful information that can lead to the whereabouts of the cultists who are now on the run.
The Chairman particularly pleaded with the family members of the deceased persons to hunt for sensitive information regarding the whereabouts of the suspected cultists and killers of their loved ones and to shun taking laws into their hands by way of revenge or reprisals.