Emir of Daura, Alhaji Umar Farouk Umar In Critical Condition At FMC Katsina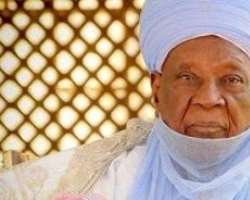 The Nigerian Voice has learned from an insider source that the Emir of Daura, Alhaji Umar Farouk Umar is in critical condition and has been taken to intensive care unit of federal medical centre, Katsina.
There are strong speculations of infection with coronavirus. It is an open-secret that he refused to test for coronavirus after same infection took the life of his Doctor, Aliyu Yakubu and his first wife, Hajiya Binta Umar two weeks ago. There also rumours of many being infected at the recent wedding of one of his daughtesr.
The Emir was moved out of the palace at about 1 am from Daura to Katsina town where he is currently undergoing medical care.
It was celebration at the Palace of the Emir on the 2nd May as one of his wives - Farida Umar - was crowned with "Giwar Sarki" - Traditional Title.