Covid -19: Yobe State Gov. Declares Curfew From 8pm To 6am Between Today And 4th May 2020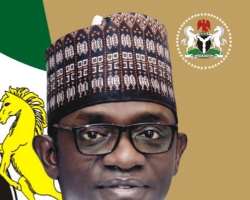 Following President Mohammad Buhari's address to the nation and declared measures on the response to the spread of COVID 19 in the country on Monday April 2020, Yobe State Governor Hon. Mai Mala Buni said " in pursuant to the Presidential directives, it is hereby directed, that effective Monday 4th May 2020 a restriction of movement orders is hereby declared from 8pm to 6 am daily."
The Governor gave the directive today Monday at the routine meeting of COVID 19 committee which took place at WAWA hall Damaturu, the state capital.
The Governor was represented by his Deputy, Hon. Idi Barde Gubana (Wazirin Fune) who is also the state chairman of committee on prevention and control of COVID -19 in the state.
He explained that as the challenge is persisting with worrisome indices, more and more measures have been taken at the Federal and state levels of governments to prevent the worse scenario.
According to Gubana this is very dangerous stage of community transmission, which we are sadly going through. The state has banned inter-state movement as the order reinforces the existing closure of our borders and boundaries, the compulsory wearing of masks by the general public and the nation-wide curfew declared by the president.
The committee how ever excluded personnel and staff that are involved in the provision of essential services.
The directives on restrictions of movement orders excluded all public and civil servants on grade level 14 and above who are not covered by the existing stay at home order but must wear face masks to work and other public places.
This is in addition to already existing measures earlier declared by the state government.
All public officers who travelled out of state on non official journeys will be quarantined as well as visitors that came into the state or on transit for two weeks.
The resolution of the meeting adopted that all filling stations, shopping complexes and road side shops must provide hand washing facilities at their premises.
The chairman calls on all law abiding citizens to cooparate and adhere to all measures being put in place for the protection of citizenry.
Social distancing, wearing of face mask, frequent hand washing, self hygiene, good respiratory etiquette, stay at home and report any symptoms to the health personal would greatly assist in curtailing the spread of COVID 19.